Megyn Kelly Panel On Obama Campaign Targeting Private Citizens Descends Into Screaming Match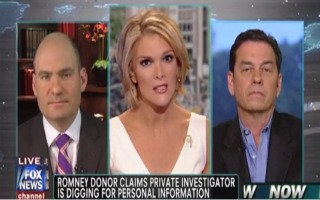 On Friday's America Live with Megyn Kelly, conservative radio host Chris Plante and former Democratic aide to Sen. Chuck Schumer (D-NY) Christopher Hahn engaged in a heated debate over the allegation that the Obama campaign is attempting to intimidate large-dollar Mitt Romney donors. The panel discussion quickly decayed into a shouting match between the two, as both debated whether the Obama or Romney camps were the worst offenders of targeting private donors.

RELATED: Megyn Kelly Panel Takes On Obama's 'Enthusiasm' Issue
The Obama campaign put out a list of large donors to Mitt Romney, among the donors was Frank VanderSloot – the CEO of Melaleuca Inc. He and others were described by the Obama campaign website as "wealthy individuals with less than reputable records." Kelly said that Democratic opposition researchers are attempting to get access to his divorce records.
"When a guy gives $1 million to a campaign of any kind, you've got to ask the question, 'what does he hope to get in return for that," said Hahn. "And that could be said for Democrats who give that kind of money as well."
Hahn attests that by donating that kind of money to a pro-Romney Super PAC he has opened himself up to public scrutiny. Plante disagreed, saying that he only donated to a political cause and now "Saul Alinsky's rule number 13 from Rules for Radicals is being employed."
"It's obviously designed to intimidate and to menace," said Plante. He said that the Obama administration has a track record of engaging in that type of behavior and cited what he believes are some examples. "If you're not on President Obama's enemies list, I don't know what you're doing wrong."
Kelly accused Hahn of misleading her and her viewers as to his true beliefs, saying "I don't know if I believe you." Hahn asserted that the Romney campaign is guilty of precisely the same tactics; targeting and demonizing private citizens that donate to the Obama campaign – like comedian and HBO host Bill Maher.
"If you want to know about Mitt Romney's tactics, all you've got to do is ask Newt Gingrich," said Hahn. At this point, the panel descended into one of two shouting matches between Hahn and Plante.
Hahn concluded by saying that this episode illustrates the need to get private money out of campaigns and have entirely publically funded elections to reduce the instances of these kinds of controversies.
Watch the segment below via Fox News Channel:
Have a tip we should know? tips@mediaite.com