Megyn Kelly Guests Rip Rev. Leon's Easter Sermon: 'Did This Guy Just Climb Out Of A Time Capsule?!'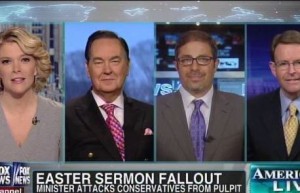 On Megyn Kelly's America Live Tuesday afternoon, the panel discussed whether Rev. Luis Leon's headline-making Easter Sunday sermon, where he criticized the 'captains of the Religious Right,' was appropriate. With President Obama in attendance, Rev. Leon's sermon noted: "It drives me crazy when the captains of the religious right are always calling us back… for blacks to be back in the back of the bus… for women to be back in the kitchen… for immigrants to be back on their side of the border."
Two of the three Kelly gathered for the bipartisan panel, Cal Thomas and Dan Gerstein, had criticized Dr. Ben Carson back in in February, for wrongly politicizing a non-political event (the National Prayer Breakfast).
Did they feel Rev. Leon's comments were similarly inappropriate? Yes.
Syndicated columnist Cal Thomas noted:
"When I first heard about this, my first reaction was: 'Did this guy just climb out of a time capsule that was buried in the 1950's?' Blacks in the back of the bus?! Who's been talking about that, for decades? That's ridiculous! And to sit there, with the President of the United States, and give a political sermon, when it's Easter Sunday, and you're supposed to be preaching about the resurrection of Jesus of Nazareth, was unbelievably inappropriate! I can't believe what got into him. Maybe he succumbed to a kind of temptation that is all too prevalent in this town, the temptation to settle for a lower kingdom when you ought to be referring to a higher one."
Dan Gerstein, President of Gotham Ghostwriters, called the pastor's comments "totally inappropriate," noting that the language was "so overbroad, unfair, and inaccurate."
And Tony Perkins, President of the Family Research Council, while cautioning that he defends Rev. Leon's right to say what he wishes from his pulpit, said the "merits [of Rev. Leon's comments] don't even deserve to be addressed" and added that President Obama should be called upon to say, "Hey, I don't agree with what he [Rev. Leon] said."
Kelly further explored this issue, noting that, although the First Family was caught off-guard and would have no way of way of knowing Rev. Leon would make these comments, White House Press Secretary Jay Carney declined to comment on the matter.
Kelly and the panel then discussed whether the sermon only made headlines because President Obama was in attendance. Gerstein noted:
"There is selective outrage being practiced by both sides and it's gotta stop. There's too much intolerance coming out of the Left and the Right and it's killing our political debates. We've lost the vocabulary of disagreement…. And I'd actually love to see President Obama address this because I think there's a real opportunity for him to rise above this and sort of say: 'Listen, we've got to stop with this demonization, we've got to stop with this tribalism…. Intolerance is intolerance no matter where it's practiced.'"
Kelly also explored how this relates to the attacks on traditional-marriage supporters as 'bigots.' Perkins noted that Leon's "loaded language" wrongly portrayed gay marriage opponents as equal to those who wished to see 'blacks on the back of the bus.'
Click below to view the segment, via FOX:
Have a tip we should know? tips@mediaite.com