Megyn Kelly & Panel Slam 'Hypocritical' Joan Walsh For Attacking Bush Daughters Back In 2001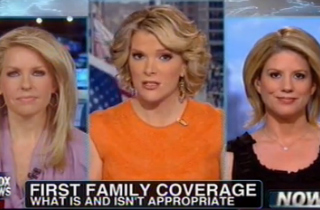 On Fox News this afternoon, Megyn Kelly and her panel took on the media controversy over Salon editor-at-large Joan Walsh decrying the media's lack of respect for the Obama daughters while having written, in the past, about the Bush daughters being possible alcoholics.
After a Breitbart.com writer revealed the location of the Sasha and Malia Obama's vacation stay in the Bahamas, Walsh took to her site to slam the right-wing site as "racist" for its reporting; she also called for more "decency" towards the First Daughters when reporting on their private affairs. Our own columnist A.J. Delgado, however, pointed out that Walsh herself "disrespected" the president's children when, in 2001, she wrote a column suggesting George W. Bush's daughters were alcoholics.
Kelly's panel, consisting of liberal writer Kirsten Powers and conservative Monica Crowley, seemed to unanimously agree that Walsh behaved in a "hypocritical" manner.
Powers suggested that the media should always play nice when dealing with presidential children, saying she wouldn't have written the Breitbart piece herself, nor would she have ever been okay with Walsh's "outrageous" piece about the Bush daughters.
Kelly and her panel also took great exception to Walsh's labeling of the president's critics as "racist" for their portrayal of the daughters' vacations. Crowley denounced the "despicable" use of the "racism charge," while Kelly added that Walsh didn't get branded a "racist" for her similar disrespect simply because the Bush daughters were white.
Watch the segment below, via Fox:
— —
>> Follow Andrew Kirell (@AndrewKirell) on Twitter
Have a tip we should know? [email protected]