Megyn Kelly Panel Spars Over Paula Deen Case: 'Too Bad She Doesn't Have Any Butter' For Racist Comments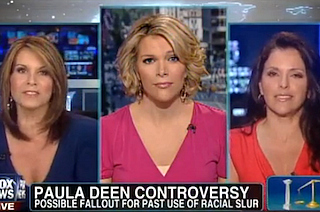 Megyn Kelly's Court took on the fallout from Paula Deen's racially-charged deposition on Friday. The panel focused on whether Deen's racist comments were relevant to the lawsuit filed against her by former employees, who allege that Deen and her brother Bubba engaged in everything from sexual harassment to racially-charged language to porn watching while running their restaurant chain.
"People sue celebrities like Paula Deen, who have a lot of money, a lot of success, all the time," Kelly said. "That doesn't mean that they're valid, that a lawsuit's been filed. And they have to sit for a deposition. Just because you sit for a deposition doesn't mean it's valid.
"Here's the rub," said Mercedes Colwin, a Fox News legal analyst. "The plaintiff is caucasian! She is not black…Where's the racial discrimination here? It's just an add-on. That's the rub. She's claiming that because, 'I saw my colleagues being called the n-word, somehow that affected my emotional psyche.'"
"So it's a hostile work environment?" Kelly asked.
"Oddly enough, it's not even there," Colwin said. "It's in what she called 'intentional infliction of emotional distress.' It's an add-on. 'Call Paula Deen a racist, call her a bigot, it'll give me more money in the end.'"
RELATED: Paula Deen Releases Video Statement Addressing Use Of N-Word, Plantation Costumes
Former prosecutor Jonna Spilbor didn't buy this, arguing that in no situation were racist epithets innocenent.
"There's no nice way to use that word," Spilbor said. "There's no nice way to be a racist. And that's where Paula Deen is putting her foot in her mouth, constantly. Too bad she doesn't have any butter on that!"
"She thinks if she's joking around using the word—or, oh my god, planning a slave-themed wedding, because the waiters look so handsome and it was impressive—that that's not racism," Spilbor said.
"The plaintiff here has no standing," Colwin countered. "She can't come forward and say, 'Hey, I'm white, but because I don't like the way my black colleagues are being treated, I'm going to put that in their class action.' It doesn't work that way."
Colwin and Kelly agreed that the majority of the complaints named Deen's brother, whose behavior is characterized as more sexually aggressive, but that Deen's wealth made her an enticing target.
"Most of the stuff is directed against the brother, but Paula Deen is the one with the big pockets," Kelly said.
Watch the video here, via Fox News:
—
>> Follow Evan McMurry (@evanmcmurry) on Twitter
Have a tip we should know? tips@mediaite.com