Megyn Kelly Panelist Compares Obama Campaign Slogan To New Coke: 'Nobody Likes It'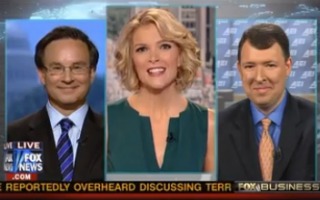 Barack Obama's previous, successful commitment to "Hope" and "Change" places his campaign in a rather difficult position this election. As The Hill very eloquently phrases it, the lack of a clear (and catchy!) 2012 campaign slogan is "raising worries among his supporters — and hopes among Republicans — that he is having trouble articulating a concise case for a second term."
While "Forward," for instance, is simple and ostensibly memorable enough, it offers no unique promise and states no special purpose for voters to rally around. It's a statement of fact rather than a rallying cry.
RELATED: Juan Williams, Andrea Tantaros Tangle Over Obama Campaign Buzzwords: 'They Assume We're Dumb Enough To Believe' Them
That's not to say that Obama supporters aren't hungry and actively searching for the new "Hope:"
The president's Twitter feed earlier this week featured a picture of him throwing a football at Chicago's Soldier Field along with the words "Clear eyes, full hearts." The slogan concludes with "can't lose" and is borrowed from the TV show "Friday Night Lights." It has been adopted as a semi-official rallying call by Obama loyalists, and can be seen displayed on walls — and a chalkboard or two — around the reelection team's Windy City headquarters.
On Fox News' America Live Tuesday, host Megyn Kelly spoke with Simon Rosenberg of the center left (we've all decided) think tank NDN, and former George W. Bush speechwriter Marc Thiessen about the Obama campaign's search for a slogan.
Thiessen looked back on some other slogans the Obama re-election campaign has tried out — like "Winning The Future," "We Can't Wait," or "You Had Me at Hello"* — before joking that Obama "eventually settled on 'Romney is a vampire'" with his campaign's attacks on Bain. The reality is, he continued, that Obama can't win a "hope and change election right now." But the more negative tone of his recent ads, he added, undermine one thing Obama has going for him — his likability.
*This is a lie.
Kelly pointed to The Hill's article, particularly its note that one senior Democratic official has shared that "people who thought that would be the campaign's lasting official slogan should 'stay tuned.'"
Rosenberg, meanwhile, stated that Obama is doing well in current polls and is position the election as a choice between moving "Forward" with him or "backward" with Romney.
As for the Friday Night Lights-inspired slogan, Thiessen noted that it would prove pretty embarrassing should Obama end up losing, and that the campaign's latest tactics are just like "New Coke's" panic-fueled mid-80s advertising campaign — "No one likes it."
Have a look, via Fox News:
h/t The Hill
Have a tip we should know? tips@mediaite.com