Megyn Kelly Panelist On GITMO's $750,000 Soccer Field: It Saves Money On Detainee Health Care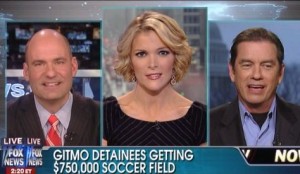 Update: A representative from AstroTurf reached out to us to clarify that the soccer field was actually installed by another brand, not AstroTurf.
Yesterday, America Live reported that GITMO is unveiling a new $750,000 soccer field for its detainees as part of the facility's three recreational centers. Today, host Megyn Kelly brought on a panel made up of two Christophers to discuss things further: liberal Fox News contributor Christopher Hahn and radio host Chris Plante
RELATED: Fox's Megyn Kelly Shocked By News Of $750,000 GITMO Soccer Field
Hahn (after wrapping up a previous discussion involving radio host Mark Levin) began by saying that the President cannot realistically close down GITMO at this time. Although, as Kelly pointed out, "not closing down" and "adding a pretty damn expensive, taxpayer-funded soccer field for suspected terrorists to play on" are two fairly different matters. "It's kind of hard to grow grass there, I'm sure," said Hahn. "So, you know, they're buying the 'turf' to save some money." As Kelly and Plante recovered, Hahn added that, besides, the field allows the detainees to exercise and remain healthy, thus ultimately saving money on health care costs.
"Jihadis love two things," added Plante, "death and soccer, apparently."
The two Christophers were at odds over Hahn's assertion that, at the end of the day, President Obama is "winning on foreign policy, and Republicans know that."
"Really?!" Plante responded, breaking into laughter.
The discussion then turned to whether or not grass can indeed grow in Cuba as well as whether the detainees can be trusted to mow the lawn for themselves if the field were to include real grass.
Kelly's reaction? "I gotta run. Thanks, guys."
Watch, via Fox News:
Have a tip we should know? tips@mediaite.com