Megyn Kelly: Pennsylvania Like 'Girl You Used To Date,' Who Then 'Lost A Bunch Of Weight'
Megyn Kelly: Penn. Like 'Girl You Used To Date,' Who Then 'Lost A Bunch Of Weight'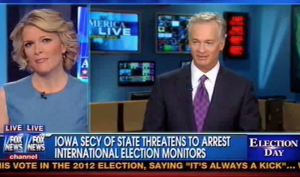 On Tuesday afternoon, Fox News host Megyn Kelly put battleground state dynamics in layman's terms. Sort of. Noting that Pennsylvania isn't replacing Ohio as the "new girl" at the dance, she clarified that Pennsylvania's actually the girl who "lost a bunch of weight," garnering second looks.
During the segment, Kelly discussed a story about "international observers who are coming to America and watching our election," noting complaints coming from both Pennsylvania and Iowa. Trace Gallagher joined the segment, bringing up Kelly's previously deeming Pennsylvania "the new girl at the dance," the state everyone's focusing on.
"Because they expect the state now to be razor thin, you have both sides of the aisle butting heads," Gallagher said. He went on to add that Pennsylvania's State Department welcomed the "UN-aligned inspectors to come into the polling places," which didn't sit well with some Republicans. Texas and Iowa have made it clear that those inspectors need to maintain distance from polling sites, he said.
Wrapping up the segment, Kelly went back to the "new girl" remark.
"The guys out here on the set say Ohio is not the new girl at the dance, replaced by Pennsylvania," she said. "They said, Ohio has been there, she's been the girl at the dance. And they said, Pennsylvania is more like the girl you used to date, and then she lost a bunch of weight, and then you take a second look at her, and you realize maybe not."
Take a look, via Fox News:

Have a tip we should know? tips@mediaite.com