Megyn Kelly Grills Wasserman Schultz, Then Catholic League President On Birth Control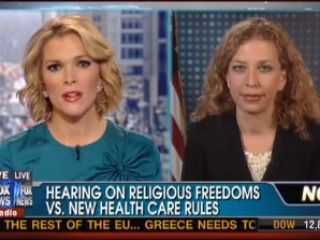 On Thursday's edition of America Live, host Megyn Kelly invited DNC chair Debbie Wasserman Schultz and Catholic League president Bill Donohue to discuss the ongoing debate surrounding a birth control mandate for religious institutions and their businesses.
Wasserman Schultz noted that, last Friday, President Obama made certain compromises to "ensure a balance between religious liberty and making sure that women don't have to choose between holding their job and being able to plan their family." Kelly, playing advocate on Donohue's behalf, noted that many religious institutions — such as those run by the archdiocese of Washington, DC — are self-insured and, as such, would still have to pay for their employees' birth control under the revised mandate. Wasserman Schultz responded by saying that the need to address such details is precisely why a one-year "grace period" was put in place.
RELATED: Mika Brzezinski: 'A Lot Of Risky Behavior' Happens 'To Be Connected To Birth Control'
Kelly then brought up that a woman (or any other employee) has a choice to work or not work for a religious institution. "That's really not a choice those women should be forced into making," Wasserman Schultz responded, noting that the nation's Catholic hospitals, for instance, employee "hundreds of thousands" of Americans.
"The flip-side of this," Wasserman Schultz continued, "is that religious institutions shouldn't be imposing their values, necessarily, on their employees who don't necessarily subscribe to those values. So there needs to be a balance."
Donohue, meanwhile, isn't pleased with the changes, nor with the so-called "grace period" being offered. He pointed viewers towards a New York Times article that "indicates the Obama administration didn't even consider this whole question about self-insurance." [I think this might be the article to which Donohue refer.]
Donohue also denounced all the attention being paid to "secondary and tertiary" issues, like women's rights or health care, when, as he sees it, this is primarily a discussion about the First Amendment.
Have a look, via Fox News:
Have a tip we should know? tips@mediaite.com