Megyn Kelly: Press Room 'Erupted' In Laughter And Applause At Obama's 'Horses And Bayonets' Line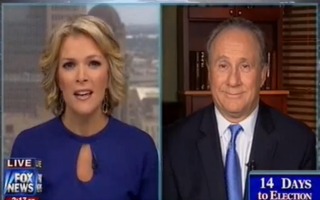 Fox News Channel anchor Megyn Kelly revealed that, while she watched the final presidential debate from the press room at Lynn College in Florida on Monday night, the assembled journalists burst into laughter and applause when President Barack Obama landed a rhetorical blow against Mitt Romney. When Romney said that Obama has presided over the downsizing of the Navy, Obama shot back "We also have fewer horses and bayonets." Kelly claims that reporters exalted over this chiding of his Republican opponent.

RELATED: Obama Trashes Romney For Not Understanding Military: 'We Have These Things Called Aircraft Carriers'
"I think Gov. Romney maybe has not spent enough time looking at how our military works," Obama said Monday night in response to the charge that he had refused the Navy's request for more assets. "We also have fewer horses and bayonets because nature of our military has changed. "There are these things called aircraft carriers where planes land on them. We have these ships that go underwater, nuclear submarines."
Speaking with conservative radio host Michael Reagan, Kelly said that she said that she observed the media's satisfaction with that comment first hand.
"I was in the spin room in Boca when the president made that comment and I can tell you that the media literally erupted around me – laughing and many clapping," said Kelly.
Reagan said that the comment revealed the president's level of arrogance, as opposed to his father, President Ronald Reagan, who he said did not 'talk down' to those he was negotiating with or debating against.
Watch the clip below via Fox News Channel:
> >Follow Noah Rothman (@Noah_C_Rothman) on Twitter
Have a tip we should know? tips@mediaite.com