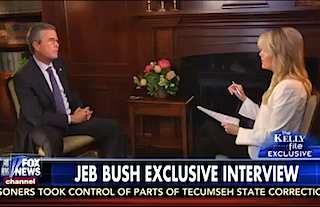 After tackling issues like the Iraq War and immigration, Fox News' Megyn Kelly waited until the end of her extended interview with Jeb Bush to bring up a topic that has dominated her Fox News show over the last week: Free speech in light of the shooting at a "Draw Muhammad" cartoon contest in Garland, Texas last Saturday.
"There's been a debate in the country over the past week about free speech," Kelly said to Bush. "There was an attempted murder of a group down in Garland, Texas that was trying to make a point about free speech by inviting folks to draw the cartoons of Muhammad. Many condemned the event and questioned its wisdom immediately, others said this is about liberty. Where do you stand?"
"I think it's about both, honestly," Bush answered, clearly hesitant to come down too hard on either side of the issue. "Certainly I think the First Amendment and freedom of expression trumps everything else, that doesn't mean it's necessarily appropriate to do what they did."
"Why is it inappropriate?" Kelly asked, cutting off the potential Republican presidential candidate. "Why not stand up to the terrorists and say, we're going to draw what we want to draw?"
"I think you can, I don't have a problem with that," Bush said quickly, turning to the "bigger problem" of how to combat homegrown terrorism in the U.S., and shifting the focus onto a part of the story on which most people can likely agree.
"The guy who is the real hero in this isn't [Pamela] Geller or anybody on the other side arguing now, they have the right to do that. It's the police officer who, unarmed with bulletproof vests, I guess, shot these two guys dead," he said. "That's the guy that we ought to admire, because imagine what would happen had he not done his job."
Watch video below, via Fox News:
[Photo via screengrab]
— —
>> Follow Matt Wilstein (@TheMattWilstein) on Twitter
Have a tip we should know? tips@mediaite.com