Megyn Kelly Previews Duggar Interview: Not Going to Be a 'Cross-Examination'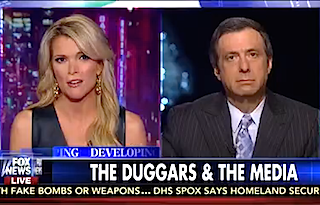 Fox News' Megyn Kelly warned viewers Monday night that her upcoming, exclusive sit-down with Jim Bob and Michelle Duggar might not be as "tough" as the hosts of The View and others have predicted it will be.
"I'll take that reputation as a tough but fair journalist," Kelly said. "However, this isn't going to be a cross-examination of a family. It's going to be an interview. I want to hear their story. And I think America wants to hear their story now."
Kelly's interview follows the revelations that the couple's son, Josh Duggar, confessed to sexually molesting five young girls, including his sisters, when he was a teenager. Leaked police reports indicate that the parents waited to inform authorities and may have even tried to cover up the criminal act.
The Fox host was particularly outraged by the way some in the media have highlighted connections between the Duggars and Republican presidential candidates like Mike Huckabee and Rick Santorum.
"Bill Clinton was accused of rape. He has been accused by several women of sexually assaulting them," Kelly stated. But the fact that a presidential candidate has posed with some random member of the family that's going through this issue is somehow a problem for the GOP'ers?" For the record, several candidates have posed with Josh Duggar and not just random members of his family.
"I've been pretty disgusted by how some liberal media types are using what's obviously a family tragedy to score political points," Howard Kurtz agreed, but also admitted that "sometimes people on the right feast on, when a liberal icon falls into trouble."
"Nothing is off limits," Kelly said of the Wednesday night interview. But, she added, "I don't plan on getting into the specific details about what was done, because my understanding is the victims don't want to discuss that either."
Watch video below, via Fox News:
[Photo via screengrab]
— —
>> Follow Matt Wilstein (@TheMattWilstein) on Twitter
Have a tip we should know? tips@mediaite.com