Megyn Kelly Returns To Air And Mocks Mike Gallagher For His 'Maternity Racket' Comment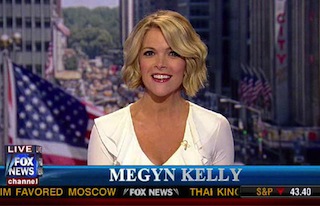 If you spend any time in midtown Manhattan today, you can probably close your eyes and here the collective sigh of relief coming from Fox News' offices now that Megyn Kelly has returned to the airwaves after her three month maternity leave. Rocking a sporty new hairdo, but still possessing the same spunky willingness to confront and surprise her guests, it didn't take long for Kelly to remind her viewers what they were missing over the last few months, particularly when she confronted Fox News regular Mike Gallagher for making comments derisive of her time spent with her newborn.
While Ms. Kelly was away giving birth to, and caring for, her children, Gallagher got some unwanted attention for calling her maternity leave a "racket." Yes, it was most likely said in jest, but many could have seen that sort of comment as being pretty insensitive to any working mother (and their husbands) who know first hand how hard it is to balance career and parenthood. While the smile never left Kelly's face, she did not let Gallagher off the hook, as he covered his face in embarrassment and muttered some lame excuses before arriving at the rather stunning (if not facetious) excuse that he'd been drinking.
It was a quick reminder of how much Kelly had been missed on air, and her increased value to her cable news network. While their position atop the cable news ratings has remained unchallenged, its fair to say that the past few months have been somewhat transitional at Fox News. The headline of that particular story was the mutually agreed to departure of Glenn Beck, but the secondary story – or perhaps the one that most everyone would quietly agree too – was that Ms. Kelly was sorely missed from the dayside programming slate.
Looking remarkably refreshed for the mother of a three-month old and toddler, Kelly was sporting a summer-friendly bob that seemed to highlight just how great she looks for just having a child. Watch the clip below, courtesy of Fox News.
Have a tip we should know? tips@mediaite.com