Megyn Kelly Rips Newsweek's Bachmann Cover: Female Pols Either 'Nuts Or Sluts'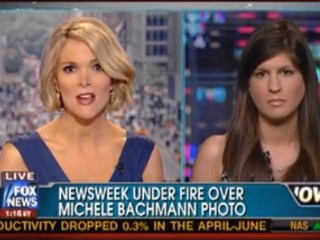 This afternoon, America Live's Megyn Kelly tackled the mounting controversy surrounding Newsweek's rather odd choice of picture and headline for its cover profile on GOP presidential hopeful and Minnesota congresswoman Michele Bachmann. Some conservatives, as well as the National Organization for Women (NOW), are speaking out against the cover, calling it sexist and politically biased. Kelly brought on the Daily Caller's Caroline May to discuss the outcry.
When, Kelly asked, was the last time anyone has heard of NOW aligning with conservatives?
It's rare, and when they do do it, they have some sort of caveat to go along with it, but it's really striking that they went ahead and took Bachmann's defense this time around. They've been having a lot of attacks against her and, I mean I think it's just the final straw. She's been, you know, in the spotlight and she's being hit for it.
May had actually been able to speak with the head of NOW to obtain a clearer view of why the group was denouncing the Newsweek cover:
Terry O'Neill, she said what they look for is Gloria Steinem's test: If this were done to a man, or if it ever could have been done to a man, then it's not considered sexist. But because, obviously, this is… She's labeled a "queen" and put as crazy, it's more sexist.
Kelly then very succinctly wrapped up the central issue at play in this story into a neat little phrase we'll personally be borrowing this week:
We've talked before on the program about how certain women politicians — it's not limited to conservative women, but you see that often — get deemed (and pardon the terms, folks) as either "nuts or sluts" when they're running for office.
Have a look at the video, courtesy of Fox News:
Have a tip we should know? tips@mediaite.com