Megyn Kelly Shares Roger Ailes' Surprising Advice: 'You Can't Be Afraid To Be Vulnerable'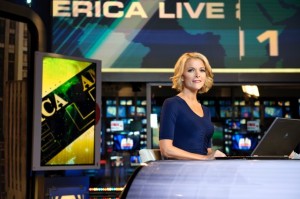 Fox News' Megyn Kelly gave Newsweek / The Daily Beast a peek into her working relationship with Fox News Channel president Roger Ailes.
RELATED: Megyn Kelly Talks To Mediaite About Jon Stewart, Roger Ailes And Maternity Leave
In the interview, Kelly tells Howard Kurtz about her experiences dealing with bullies as a young girl — experiences she dealt with by putting on a tough front. It was a front, she shares, that would ultimately do her a disservice when she made the switch from law to television:
The underlying feelings of insecurity only deepened when I made the leap from law, which I came to despise, to television news. Was I smart enough? Was I attractive enough? (I know, the hair and makeup people do a great job, but you should see me in the morning.) After a brief stint at a Washington station, I was still learning the ropes when I got to Fox News in 2004. And when I mispronounced a name on one of my first stories—and got a mild scolding from my boss, Brit Hume—I was completely dejected. I beat myself up for a week.

A few months later Roger Ailes, the network's chairman, called me into his office. Love the look, the voice, the confidence, he said. "Now who's the real you?"
She eventually learned — thanks to Ailes' perceptive ways — that she was acting as her own greatest obstacle by striving to be perfect and working so hard to exude an air of invulnerability. And now? "On the air, I take more chances," she says. "While discussing the Olympics, I said the word 'shuttlecock' made me feel uncomfortable. I've got a bawdy sense of humor. So sue me."
She ends the interview by talking about a particular moment that shows how much she's changed over her time at Fox. "A few months ago," she shares, "I got into a fierce argument with Fox contributor Kirsten Powers over my coverage of an investigation involving the New Black Panther Party; I kept raising my voice and interrupting her. Some bloggers had accused me of being a racist, and I'd had enough. But I was wrong to get angry and treat a guest so disrespectfully. I later apologized to Kirsten. Eight years ago, I could not have done that; now I'm not afraid to admit the obvious: I'm not perfect."
You can read the interview at the Daily Beast.
Have a tip we should know? tips@mediaite.com