Megyn Kelly Speaks With LightSquared Founder And 'Democratic Donor' Philip Falcone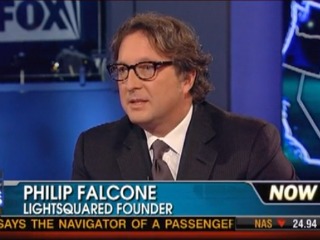 Previously, we'd told you about early reports that Gen. William Shelton, head of the Air Force Space Command, had informed House members that he'd faced pressure from the Whit House to change his congressional testimony regarding Light Squared, a satellite and communications company owned by a prominent "Democratic donor" (you'll see later on in this post how those initial reports, while true, were a bit misleading).
On America Live this afternoon, host Megyn Kelly reported on the LightSquared controversy by providing a timeline of events relating to the company. In February of 2005, she shared, President Obama invested up to $90,000 in a little-known firm named SkyTerra. In September of 2009, an investor named Philip Falcone (that's the Democratic donor in question) met with the individual who would become LightSquared's CEO at the White House. Then, in March of 2010, Falcone's Harbinger Capital bought SkyTerra and became LightSquared. In January of this year, the FCC gave LightSquared the go-ahead to pursue its nation-wide wireless project. After Gen. Shelton's says he felt pressured to present a more favorable testimony, a hearing was held, including testimony from a LightSquared executive. The FCC has since called for additional testing of the company's wireless project to ensure it does not, as Gen. Shelton worries, interfere with military GPS systems. It was after all this that Shelton came forward with this revelation.
In an effort to get a clearer picture on everything that's been going on, Kelly brought on Falcone himself. She got right to the nitty gritty asking Falcone (whom she referred to, in a moment of levity, as a "gazillionaire") about criticism that the FCC may have been politically motivated to have looked the other way where LightSquared's satellite communications project is concerned. There "a couple of things that I want to correct," he said:
In your opening statement, you mentioned that I went down to see the President. I've never met the President. And he, apparently, acquired some stock back in 2005, 2006 and subsequently sold it. So, that's irrelevant to what we're talking about today.

I think the important thing to get across is that we were granted authorization of the spectrum and to use the spectrum to build out the nation-wide wireless network in 2005… Under the Bush administration. And subsequent to that is when I became involved. I became an investor and the more I understood about this company, the more I realized that it was a great asset. So, fast forward, now we're in 2009, I made a bid to acquire the company. And this waiver that people are talking about… It's irrelevant. Quite frankly, when we first approached the FCC, it was more of an interpretation of their waiver to acquire the company in 2010. So, we didn't apply for a waiver. What everybody's talking about does not affect the network. It's all about the devices that we were trying to deploy.
Falcone responded to Kelly's question about whether he would be willing to produce his and his company's communication with the FCC by saying he was sure they would show that everything proceeded normally, but added that he'd have to "check with my counsel" about making these public.
The two also discuss whether it "looks bad" for the company to mention "fundraising" events in his correspondence. Falcone also mentioned that, surprise!, he's actually a Republican and has given money to both Democratic and Republican campaigns in the past. Does this make it impossible for something less than ethical to have occurred between the company and the White House? Of course not. But it does offer an interesting additional wrinkle to the story, which looks like it'll only continue to unfold as additional insight and details emerge.
Check out the full interview, via Fox News:
Have a tip we should know? [email protected]