Megyn Kelly Talks Shutdown with The Five Hosts, Along with Tons of Awkward Sexual Banter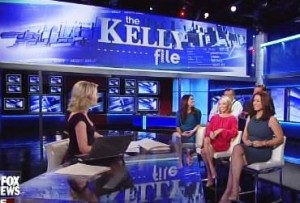 Megyn Kelly brought the co-hosts of The Five onto her inaugural night in primetime, and after congratulating her on the new show, they got into an intense discussion on the government shutdown, followed by tons of awkward over-sharing about sex. And if you've ever been curious about what Bob Beckel's sex life is like, I HAVE SOME GOOD NEWS FOR YOU.
Bolling reiterated his point that the Obama administration is trying to inflict the "maximum shutdown pain available" so that Republicans keep getting more and more blame for the shutdown. Beckel argued this could be solved immediately if John Boehner would let the House vote on a clean continuing resolution, but Andrea Tantaros shot back that the Democrats "want the pain to happen" because they've rejected the individual funding bills passed by Republicans.
The conversation then turned to Miley Cyrus, and that's where the segment went off the sex rails. Beckel referred to Cyrus someone who "dances like she's a cheerleader for a prostitution ring," while Kimberly Guilfoyle suggested her behavior may stem from a "mental health issue." Kelly also took issue with Cyrus' suggestion that sex doesn't really happen after you turn 40.
What followed, in short, was a lot of awkward discussion about sex after 40 and hook-ups on The Five and too much sharing about Bob Beckel's sex life and what Bob Beckel says behind the scenes and the time Bob Beckel got a colonoscopy.
Watch the video below, via Fox News:
[photo via screengrab]
— —
Follow Josh Feldman on Twitter: @feldmaniac
Have a tip we should know? tips@mediaite.com
Josh Feldman - Senior Editor