Megyn Kelly To Lesbian Soldier: "What Part Of 'Don't Tell' Didn't She Understand?"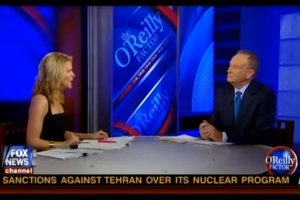 Usually, when Megyn Kelly makes an appearance on the O'Reilly Factor, she spends her time raising Bill O'Reilly's blood pressure about Ruth Bader Ginsburg or some other theoretical legal issue. Tonight the pair were mostly at peace, agreeing that a soldier kicked out of the military for coming out as a lesbian should have to pay back $80,000 the military provided for her education because, as Kelly put it, "What part of 'don't tell' don't you understand?"
Kelly's argument is that the student, Sara Isaacson, who received a full ride scholarship to UNC Chapel Hill to complete her college education, knew that Don't Ask Don't Tell was in place when she joined the military, and that, as a lesbian, she could not complete all the requirements the army demands of her.
"It's November, she's about to graduate, and now, suddenly, she realizes she's a lesbian. Fine by me, be a lesbian, but the army has a 'Don't Ask, Don't Tell' policy. What part of 'don't tell' didn't she understand? Ok, she objects to it, so she decidesshe must tell in order to be true to herself and hold up her own integrity. Fine by me again, but don't keep the money!"
Having knowingly deceived the military to received an education, she would have to give the money she used to pay for the education back. The catch is, Isaacson claims to not have yet been aware she was a lesbian, and, given the nature of the issue, it's impossible to know for sure whether this claim is true or not.
O'Reilly agreed with Kelly, actually taking her argument a step further and suggesting that, rather than simply request the money back, the military should sue Isaacson for fraud. Kelly also compared the case to a medical student who was paid her education and, right before graduation, refused to practice medicine during war on moral grounds outside of the country.
Video below:

Have a tip we should know? tips@mediaite.com