Megyn Kelly's Panel Has Some Advice For Santorum: 'Stop Writing Ads For The Obama Campaign'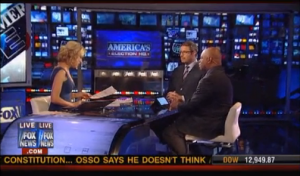 On Monday, America Live host Megyn Kelly invited a panel made up of radio host David Webb and Gotham Ghostwriters president / Democratic strategist Dan Gerstein onto the show to discuss candidate Rick Santorum's recent comments concerning Barack Obama's values and faith. You may recall that, while speaking at a Christian conference on Saturday, Santorum criticized Obama's moral compass and suggested the President's agenda was based on a "phony theology" not based on the Bible.
RELATED: Rick Santorum Goes After Obama On Faith: His Agenda Is Based On 'Phony Theology'
The next say, Santorum appeared on Face the Nation, where he clarified that he hadn't been talking about the President's faith, nor about religion convictions at all.
RELATED: Santorum Explains His Remark Attacking Obama's 'Phony Theology': I Wasn't Suggesting He Is Not A Christian
Webb, for one, believes that, in context, Santorum had been referring to the President's "belief system" rather than his religion. But "what he doesn't do well," Webb pointed out, "is stop writing ads for the Obama campaign." Santorum was merely playing to the Christian crowd, he continued explaining, "and that's dumb, Megyn. You've got to focus on the Obama administration's jobs record, on its economy record. Focus on those things and stop playing to the crowd."
Gerstein, meanwhile, feels Santorum's "phony theology" comment amounts to a personal attack because — whether or not it was meant in a religious context — it sought to question the President's motivations. Both panelists agreed that Santorum and the rest of the GOP field would do well to avoid attacking the President personally because it'll result in alienating Independent voters come the general election. The key strategy? Again: going after Obama's record, particularly where jobs are concerned.
Kelly then pointed out that Santorum seemed to be characterizing Obama's "belief system" as one based on big government. Gerstein, who has worked with Santorum staffers and praises the candidate as a "man of conviction," agreed with Kelly's assessment, adding that this line of thinking will ultimately cost Santorum the election.
Kelly and Gerstein disagreed, however, when it comes to holding Santorum accountable for comments made by his supporters and/financial backers — namely, of course, Foster Friess. Kelly didn't think it fair to compare Friess' relationship to Santorum to that of Obama and Rev. Jeremiah Wright. "He sat in the pew for twenty years!" she said of Obama. "Foster Friess is just giving [Santorum] dough!"
RELATED: Limbaugh: We're Supposed To Ignore Obama's Relationship To Rev. Wright, Yet Santorum Is Responsible For Friess?
Have a look at the discussion, via Fox News:
Have a tip we should know? tips@mediaite.com