Megyn Kelly Panel Spars Over Appropriateness Of Obama's Upcoming Jimmy Fallon Appearance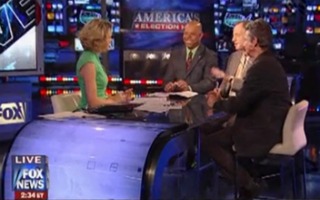 On Tuesday, with President Obama preparing to appear on NBC's Late Night with Jimmy Fallon, Fox News Channel's Megyn Kelly hosted a debate over the political necessity and appropriateness of Obama appearing on late night comedy programs. Panel member and comedian Scott Blakeman noted that these programs are effective political tools as at last year's White House Correspondent's Dinner, President Obama nearly singlehandedly delegitimized the 'birther' issue. "It's a very effective weapon," said Blakeman.

RELATED: Dana Perino: Unlike Obama, Bush Thought Late Night Shows Not 'A Place Where The President Should Be'
Kelly asked her panel guests to weigh in on a statement made by former George W. Bush White House Press Secretary Dana Perino on Fox & Friends on Monday where she said that, unlike Obama, President Bush shied away from late night comedy programs. "He just didn't think it was a place where the president should be," said Perino. "And also, they're dangerous."
"I do think it's important these guys do these kinds of shows," said Democratic strategist Hank Sheinkopf. He said that people "are not watching television generally, but they are watching those shows in the evening. And that's where you get people."
Kelly said that it is also important to do late night comedy programs in order to capture a younger audience. She cited a poll that showed President Obama had lost the support of 18 percent of 18-29-year-olds and more than half of recent college graduates are under or unemployed. "So he's going in the wrong direction," said Kelly.
Conservative radio host David Webb said that he doesn't have a problem with the president going on comedy programs, but what he does object to was "the pandering instead of putting solutions out there."
"Why not pander," asked Kelly.
"Pandering doesn't get you any solutions," Web responded. He cited the president's recent proposal to maintain low interest rates on student loans as one example of the Obama administration reaching out to young voters.
Blakeman disagreed, saying that President Obama has always excelled on the late night programs, just as Republicans have as candidates. "This is a way to get your message across," said Blakeman. "Comedy is a very effective way. Look at what the president did to Donald Trump last year at the White House Correspondent's Dinner – coming up again Saturday – demolished the whole 'birther' argument through comedy. It's a very effective weapon."
"Does this make someone sitting at home without a job, without a home or a home that's facing foreclosure say 'I am going to vote for him,'" asked Kelly.
"No, what it does is it makes most people say 'I want to kill politicians,'" said Sheinkopf.
Kelly said that Comedian Jimmy Fallon is not going to challenge President Obama on policy. Blakeman countered that point, saying that Daily Show host and comedian Jon Stewart gave him 'the hardest interview I think President Obama's ever had."
Watch the panel debate below via Fox News Channel:
Have a tip we should know? tips@mediaite.com