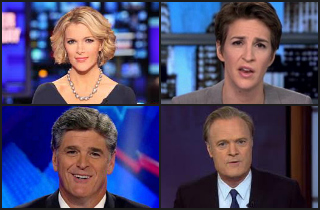 As noted here when the news first broke of Megyn Kelly's move to Fox primetime, Roger Ailes making such a decision was never a matter of if…but when.
The only question seemed to be: OK, where to put her? There were rumors that she would co-host with Sean Hannity, which would have gone down as the worst pairing since Rather and Chung. Or maybe Kelly would replace Greta at 10:00 PM. Out with one lawyer, in with another.
In the end, Kelly gets the coveted 9:00 PM spot all to herself. And with it, we have a most compelling matchup between MSNBC and Fox between Kelly and Phil Griffin's top talent Rachel Maddow.
For those who didn't read Part I (7:00 and 8:00 PM) of this breakdown, a quick review: This analysis is being relegated to MSNBC and Fox due to Phil Griffin's declaration that MSNBC would overtake Fox by the end of 2013.
So with the new lineups now in place, will it mean a watershed moment in the world of cable news?
If the first nine months of the year are any indication, not bloody likely. MSNBC, which started 2013 in second place (well) behind Fox, has since been passed by CNN, who is making some big changes of its own (without making any unrealistic short-term declarations or setting any timetables on victory).
Still, this is Mediaite and we would therefore be remiss if we didn't break down these matchups like John Madden used to for NFL games with a telestrator (minus the telestrator).
9:00 PM: Rachel Maddow's Rachel Maddow Show vs. Megan Kelly's The Kelly File
Amidst the programming turmoil at MSNBC over the past year, the one constant has been Maddow. Ed Schultz moves to weekends. Chris Hayes moves to 8:00 PM. Ed Schultz comes back to weekdays. The Cycle loses half of its original cast of four. MSNBC/Griffin publicly states the network doesn't do breaking news (in the middle of the busiest breaking news years in recent memory, mind you).
Any executive in the business will say that Maddow's struggles this year are primarily due to the weak lead-in provided by the aforementioned Hayes. But her show has wisely stayed the course: It still is viewed by conservatives the same way liberals view Hannity, still does its job in riling up both sides of the aisle. And before some of you decide to attack Ms. Maddow, know this: She has the utmost respect of one Roger Ailes, who had nothing but praise for her in a blurb he wrote for her book, "Drift":
Ailes: "Rachel Maddow makes valid arguments that our country has been drifting towards questionable wars, draining our resources, without sufficient input and time. People who like Rachel will love the book. People who don't will get angry, but aggressive debate is good for America. Drift is a book worth reading."
It remains to be seen if the Kelly brand—despite all the accolades—is one that can carry an hour in dominating fashion in primetime. She will benefit by having the #1 show in cable news (O'Reilly) as a lead-in, sure, and that will likely be the difference-maker between Maddow and Kelly on the ratings front.
But note: Fox says The Kelly File will focus primarily on breaking stories as well as investigative reports mixed in with newsmaker interviews. Will there political topics? Of course…but not the wall-to-wall stuff seen on Hannity or Maddow. Instead, Kelly's show will more resemble O'Reilly (which mixes and matches politics with media analysis and pop culture depending on news of the day).
Remember, in Fox's world, the measure of success isn't simply beating the competition, it's by how much.
Regardless of outcome, it's refreshing to see more women occupy what used to solely a man's world in cable news. It's even more refreshing (being one myself) seeing guests/contributors (Maddow, Kelly) perform so well in that capacity, that they're actually being given their own shows on a national level.
10:00 PM: Lawrence O'Donnell/Alec Baldwin (Fridays only for Baldwin) vs. Sean Hannity
No ambiguity on the O'Donnell-Hannity front: It will be a war between hard-core media representatives from the hard left (O'Donnell, a self-described "European socialist") and the hard right (Hannity, who feels many Republicans nowadays aren't nearly conservative enough).
Hannity—who has been with FNC since its inception in 1996—is Fox's most outspoken conservative. But he's also become a one-trick pony in terms of night in-night out content.
In short, there's almost nothing unpredictable about Hannity's show:
Bash the President in the open…
Bash the President during the panel discussion (a balanced one between left and right, with the host tipping the scales back to the right)
Throw a football at the camera at the end of the panel segment…
Lather, rinse, repeat.
The result—particularly over the past few years—has been a significant drop in audience from his soon-to-be-former lead-in, O'Reilly (who's clear dislike of Hannity means mentioning his name in public as often as Keith Olbermann's). The number varies, but invariably 30-40 percent of O'Reilly's audience changes the channel as soon as he signs off. Simply put, the Hannity brand has grown stale, hence the move to 10:00 PM.
On the MSNBC side, a similar demotion was served to O'Donnell—who like Kelly and Maddow—is also a former guest-turned-host. If you recall, O'Donnell originally replaced Olbermann at 8:00 PM before being moved to 10:00 PM by a host (Schultz) who is no longer there. Regardless of timeslot, O'Donnell–who despite playing the race card as often as Matthews (See: Way, way too often)–still brings passion and energy to every show. The hunger still appears to be there at age 61. Hannity will win the numbers battle, sure, but the margin won't be much.
As for Baldwin, Friday is the least-watched night of the week. His show will be more Larry King and less Larry O'Donnell in terms of content (See: More entertainment/pop culture-based than political), and therefore should do relatively fine on a night where expectations around ratings are fairly low, anyway.
From a cable news analysis perspective, the kind of stuff we cover here at Mediaite, 2013 has been an unpredictable and therefore exciting year to be in the business.
Now the chess pieces are finally in place.
One thing is for certain:
From Fox to CNN to HLN to MSNBC…
There now appears to be a little something for everyone.
— —
>> Follow Joe Concha (@ConchSports) on Twitter
Have a tip we should know? tips@mediaite.com