Melissa Harris-Perry Enrages Conservatives, Abortion Opponents By Calling Fertilized Eggs 'This Thing'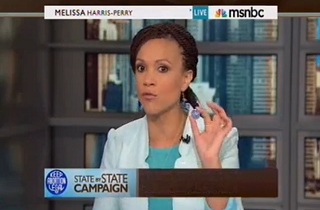 MSNBC's Melissa Harris-Perry launched into a primer on the need to defend abortion rights and the current efforts to restrict access on her program this morning that featured a panel of pro-choice activists. Before Perry launched into the primer that outraged conservatives she broke a plastic model of the female reproductive system live on air.
Perry mocked abortion opponents when she broke a part the fertilized egg portion of the model and expressed amazement at how people could view the egg as a person.
"Oh, no. That might be bad. I seemed to have popped open the fertilized egg. We'll put that back together. But the very idea that this would constitute a person, right? And that some set of constitutional rights should come to this," said Perry.
This comment infuriated the conservative watchdogs at Newsbusters, prompting them to call Harris-Perry a "member of the 'blob of cells' brigade when it comes to her disregard for unborn human life." Newsbusters claimed she approached the issue of human life with "dismissivness" and "virtual contempt."
Perry added that it can cost upwards of $20,000 a year to a raise a child if you're a single parent. Perry called the broken plastic egg "this thing" and proceeded to ask her panel, why the state should restrict the rights and options of women to make the best choices they can when they are pregnant?
"Because it is so essential for women's economic, political, community participation to control their reproductive lives, that we have to leave these decisions to women and their families," said Nancy Northup of the Centre For Reproductive Rights.
Restrictive laws like so-called personhood amendments that were turned away at the ballot box in Mississippi, according to Northup, would impact not only abortion but contraception and fertility programs like they have in Costa Rica.
Watch clip below via MSNBC

Have a tip we should know? tips@mediaite.com