Melissa Harris-Perry Responds To Criticism On Hayes: What Is It About My Ad That Would 'Distress People So Much?'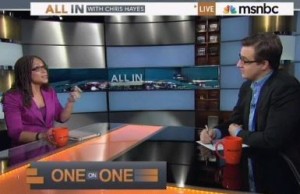 MSNBC's Melissa Harris-Perry sat down with her colleague Chris Hayes tonight on All In to respond to the controversy over her promo for the network, in which she says that children should be the responsibility of communities. Harris-Perry found it particularly interesting that of all the hours and hours of content aired on MSNBC, this in particular would "distress people so much."


RELATED: Mark Levin Rants Against 'Blithering Idiot' Harris-Perry For Her MSNBC Ad 'Straight Out Of Communist Manifesto'
Hayes opened the segment saying that the only reason this has been getting a lot of play on Fox News is due to a dearth of big news. He admitted this blew up "for reasons I genuinely don't understand," and ran just a portion of the huge coverage Fox News has given to the controversy, leading Hayes to call Harris-Perry's ad "the most successful promo in the history of MSNBC."
Harris-Perry admitted "it's not fun" to go through this, but accepted it as "the nature of public life" to get such heavy criticism. But she found it more interesting that this particular ad, of all things, is getting such play in the conservative media sphere.
"Why this? Like this, of the various spots that all of us have done, they many hours of television I've produced on the show, what is it about this that raises the ire?… [I'm] trying to figure out what it is about those statements that distress people so much."
Mediaite took note of the ad early on, with a highly critical column by Garrett Quinn, followed by a mix of continued criticism and also support, especially this column by Matt Wilstein defending Harris-Perry
Harris-Perry will be addressing the controversy more in full on her MSNBC show tomorrow morning.
Watch the video below, courtesy of MSNBC:
—–
Follow Josh Feldman on Twitter: @feldmaniac
Have a tip we should know? tips@mediaite.com
Josh Feldman - Senior Editor