Melissa Harris-Perry Uses Pardoned Turkey To Criticize President Obama's Clemency Stinginess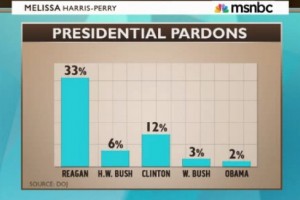 Melissa Harris-Perry, host of MSNBC's newest weekend show Melissa Harris-Perry, normally uses her "Open Letter" segment to dispense wisdom to some conservative who badly needs it, and normally, those open letters are to human beings. On Saturday morning's MHP, the host and Tulane Professor penned her weekly missive to Cobbler, one of two turkeys pardoned by President Obama this past Thursday (which was also Thanksgiving Day), and used it to illustrate the President's historical stinginess with pardons of human beings. "Maybe you can scratch out a letter to the White House," Harris-Perry suggested to Cobbler,  "allowing the president to show as much mercy to humans in his second term as he has shown to poultry in his first."
The Thanksgiving turkey-pardoning is an innocuous photo-op that president have been doing for a long time, but one of this year's beneficiaries has been drafted as a symbol of an under-reported facet of President Obama's first term. As Melissa tells Cobbler in her open letter, "Your Pardoner-in-Chief has been reluctant to use his pardoning power for humans," pointing out that "he has pardoned only 22 individuals, while denying 1,019."
"That is approving just 2% of all requests processed by the DOJ," Harris-Perry continued. "President Reagan found 1 in 3 worthy of official forgiveness. George H.W. Bush, 1 in 16, Bill Clinton, 1 in 8, and George W. Bush, 1 in 33, a mere 3%. But with President Obama, it is just 1 in 47."
Harris-Perry referenced the case of Katie Barribeau, who has kept her nose clean since a drug conviction when she was 22 years old. From Pro Publica:
In 2001, when she was 22, Barribeau was arrested for helping her boyfriend mail ecstasy from a military base in Germany back to the United States for sale. Confronted by military investigators, she immediately confessed and cooperated. In exchange for her assistance, she was sentenced to five years of probation and a $1,000 fine for conspiracy to import ecstasy.

In the decade since, Barribeau has had no further legal troubles. She left the Army, returned to the United States and completed college in Wisconsin. Today she is married and a manager at the Green Bay company where she has worked for the last 10 years.

Barribeau said she deeply regretted her involvement in the drug scheme and that a pardon would help her in several important ways. Her company frequently holds meetings in Canada, which she cannot attend because of her conviction. She and her husband are trying to start a family and some states bar those with federal felony records from adopting.

"I want to vote, I want to have the kind of career opportunities that I have worked hard for and I want to be a new mother," she said in an interview. "But I wonder sometimes, what if I can't get pregnant, what if I want to adopt? Is this going to prevent me from being a mom?"

Still, the pardons office recommended her for denial, writing that she "lacked the maturity to resist being manipulated by others." Their evidence? She helped a different former boyfriend purchase a snowmobile for $6,000 and was still paying off the credit card debt when her application was pending. In a confidential memo to the White House obtained by ProPublica, the pardons office said Barribeau needed more time to demonstrate she had been fully rehabilitated.
The President is arguably in a tough spot when it comes to pardons, as crime is already easily demagogued, much more so with Democrats. Also in President Obama's defense, most of the pardons granted by Presidents Clinton and Bush 43 occurred in their respective second terms, when they didn't have to worry about being reelected. President Bill Clinton granted 218 of his 396 pardons in the final year of his last term.
Politics aside, though, President Obama may also be acting on a natural inclination to let the justice system work, to address inequities via reform rather than pardons. That's tough to swallow, though, when you compare the stakes for someone like Barribeau with those of Ronald Lee Foster, whom the President pardoned for "coin mutilation" so Foster could get a gun permit. Put that in your NRA crack pipe and smoke it.
President Obama has faced sharp criticism from the left on a variety of criminal justice issues, including marijuana enforcement, and his second term will show where his philosophical rubber meets the road. With all that he has to contend with now, though, it's doubtful that a letter from one more turkey will make much of a difference.
Here's the clip, from Melissa Harris-Perry:
Follow Tommy Christopher (@TommyXtopher) on Twitter.
Have a tip we should know? tips@mediaite.com