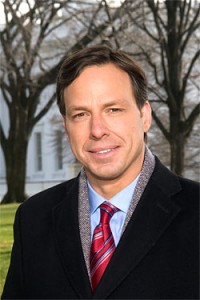 During the holidays, most people get to see those who they enjoy the most and wish for opportunities to see these cherished friends more often throughout the year. Apparently this also describes the relationship between long-time viewers of ABC's This Week and the substitute host they only get to see on holidays: Senior White House Correspondent Jake Tapper. While current host (my hesitation to use the word "permanent" is unabashed wishful thinking) Christiane Amanpour was away, Tapper returned to the show he expertly hosted during the transition from George Stephanopoulos to Amanpour and reminded everyone again why he should be allowed to reclaim the throne.
Let's be clear, this is not as much a criticism of Amanpour's efforts as it is a praise of Tapper in this role. Amanpour is a serious and informative journalist, yet in her five months hosting the show it's clear where her passion and strengths lie, and it's not in the intricacies of in-the-beltway political squabbles. The worldly Amanpour is excellent at informing viewers about what they should be concerned about in the world, and her imprint on the show reflects that, mainly with the addition of international experts to the roundtable discussion and full episodes dedicated to single issues like charity and the ground zero mosque. On paper, Amanpour and these ideas sounded like a great way to shake up the traditional Sunday morning show format, which some would argue are desperate for a change. However, what that paper does not reflect is, quite frankly, how boring this show has become.
Tapper on the other hand, as evidenced Sunday and throughout his tenure, was able to find a way to make the show not only extremely relevant and insightful, but also fun. On Sunday's show, Tapper moderated a roundtable discussion with conservative regular George Will and liberal commentator Donna Brazile that was filled with surprises (Will and Brazile agree Republican Governor Mitch Daniels is the most formidable Republican nominee to challenge President Obama in 2012) and with laughs as Will then wondered if Brazile was trying to sabotage his candidate by saying she was impressed by him. The last time there were laughs on Amanpour's roundtable . . . well, that implies that there ever were any laughs.
Tapper also was successful in questioning all of his guests intelligently, calmly and fairly, no matter their political affiliation, while also frequently eliciting such unique headline-generating comments like when Governor Christie of New Jersey mentioned he wasn't a fan of the reality showJersey Shore. New ABC News President Ben Sherwood has a chance to correct this ship's course before it's too late. Well that was unnecessarily dramatic, since I guess it's never too late if Tapper is willing to wait around for a while, but given a feared and rumored move of the show to New York in order to accommodate Amanpour, now is as good a time as any for a host change.
And the case of the extremely competent and arguably superior Sunday morning show host understudy is strangely not unique to ABC. Yesterday, as the hosts of both CBS's Face the Nation and CNN's State of the Union, Bob Schieffer and Candy Crowley, respectively, enjoyed their vacation, substitutes Harry Smith and Ed Henry shined. Smith moderated an entertaining political bloodbath, while Henry conducted a tough interview with Congressman Darrell Issa that proved to be the most enlightening and newsworthy of Issa's many interviews all day. However, since Smith is already the likely successor to Schieffer (who has to retire at some point, right?) and with CNN justifiably concerned about other parts of their schedule that are in worse shape, it seems only ABC should seriously consider a Sunday morning shake-up as soon as possible.
If there is one strategy for success that all current Sunday morning hosts should learn, then look no further than current and longtime ratings leader Meet the Press host David Gregory: don't go on vacation.
Have a tip we should know? tips@mediaite.com