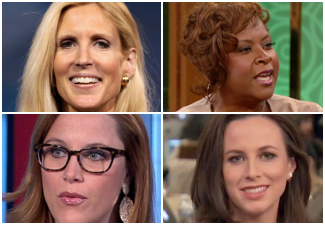 In the least shocking news to hit the industry this week, Rosie O'Donnell is leaving The View after a much-hyped return less-than-a-hockey-season ago.
Not to end-zone dance or anything–because this choice was so obviously doomed from the start–but Ms. O'Donnell not being able to revive a sinking franchise could be seen from a mile away (as was her mental meltdown). As mentioned in this space, sequels invariably fail (at least critically compared to the original…with a few exceptions) in the entertainment world. O'Donnell is a living, breathing, 50-something sequel. And in the end, her departure is a product of classic in-the-box thinking by the important corner-office folks over at ABC, who–like most network executives–always go safe and end up sorry.
Now–let's not pin The View's impending demise on just one Rosie alone. The other Rosie–in the form of Perez–has shared exactly zero compelling thoughts since joining the program outside of this opening act. The same can be said for Nicolle Wallace, who if not for working for Sarah Palin seven years ago would be somewhere between the wilderness of infomercials and occasional Morning Joe appearances. The "Palin was mean to me and an idiot in general" shtick should not be the cornerstone of one's LinkedIn page. And Whoopi Goldberg? Well, let's just say I've always preferred to have the much more engaging and informed Robin Quivers running the show instead.
As some of you know, I'm a fantasy football geek. That premise oftentimes is extended into my columns as well when it comes to building panel shows. So listen up, View decision makers, because I'm about to provide the pearls to save your show… again.
Step 1: Fire everyone left on that set. Perez already had one foot out the door to probably go do White Men Can't Jump 2 anyway, so no worries there. Wallace is a nice enough lady but the aforementioned one-trick pony. Whoopi can split a taxi out to the airport with Perez for a Ghost prequel (it'll be like Batman Begins, but different!). In the end, whatever this is just ain't working, much to the delight of CBS's The Talk.
Step 2: Hire Quivers… she's right down the block on the Howard Stern show and just coming off a newscast (See: She's already warmed up). Hire S.E. Cupp, who is about as easy to find on CNN as Tiger on a PGA leaderboard these days… thereby giving Sarah Elizabeth some hours to fill. Hire Alicia Menendez, who is just about the best liberal pundit out there (currently with Fusion… but check her out here with Cupp on Bill Maher's Real Time). And can someone, anyone extend a contract to Ann Coulter? Nobody does snark and infotainment better. More importantly, she knows how to evoke emotion and reaction from those who both agree and disagree with her. Here's a preview of what I'm talking about via a Coulter guest appearance on the show (and conveniently enough, Menendez is guest hosting here as well).
So there you go. Unlike the 1990s All-Star Team of Rosie, Rosie and Whoopi (all over 50), you go younger with half the cast of Cupp (35) and Menendez (31). You have two liberals (Menedez/Quivers) vs. two conservatives (Cupp/Coulter). And guess what? All possess something sorely lacking in this business: a biting sense of humor. Nothing phony here. And from a superficial point of view (television is a visual medium, after all), I've got a blond, two brunettes and a red head doing the glasses thing. But here's one more idea: Bring in one guy to sit in for one segment at the end of the show to mix things up (thereby not ripping off Outnumbered completely). Doesn't matter who… it's not like ABC has a shortage of talent or anything.
Of course, none of this will happen because it makes too much sense. That would actually take thinking outside the box… something executives trapped in that Manhattan bubble don't have the courage to even consider.
[Photos via Screengrabs]
— —
Follow Joe Concha on Twitter @JoeConchaTV
Have a tip we should know? tips@mediaite.com