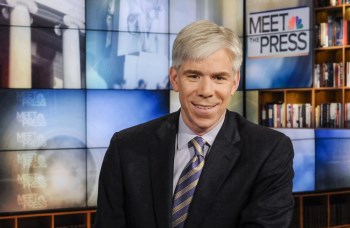 The ratings battle between Sunday morning news shows is never as sexy as the late night wars or the epic fight between The Today Show and GMA. This possibly could explain why the slow decline of NBC's Meet the Press (both in terms of ratings and quality) mostly seems to be under the radar. Maybe no drastic changes to the show were demanded yet because the host, David Gregory, is a likable enough guy within the halls of NBC, or maybe network executives were preoccupied with fixing other problems on the schedule.
Yet now as NBC puts the finishing touches on it's new late night (welcome, Jimmy Fallon and Seth Meyers), stabilizes weekday mornings (viewers couldn't punish Matt Lauer forever) and finds success in primetime (The Blacklist is the best show currently on television, in this humble writer's opinion), it's time to turn focus to Sunday. Because if it's Sunday, it's…any show but Meet the Press, as what was once the highest-rated show finished 2013 ranked third.
Here are three simple suggestions for Gregory to reignite MTP with a new energy and to help transform the longest-running television series in American broadcasting history from the snoozefest it is today into can't-miss television that could reclaim the ratings crown.
1) Be More Like Tim Russert
Prior to his tragic death, Tim Russert, the former host of MTP, ruled Sunday mornings because he grilled politicians with an intense, unrelenting series of well-researched questions that left his guests sweating and squirming.
As a lawyer myself, I admired Russert's prosecutorial approach to his questioning, as he would throw up on the screen past quotes from his current interview target and force them to answer for what often seemed to be a now contradictory position. It is truly baffling why to this day why no host has even attempted to emulate Russert's unique technique. The closest anyone on television comes to trying to point out hypocrisies between a politician's current position and their past statements is Jon Stewart and the extremely talented writers/researchers at The Daily Show.
Russert was equally tough on all guests, no matter their political persuasion, and seemed universally skeptical of all of their answers. Gregory needs to develop the appetite to expose inconsistencies and needs to become respectfully aggressive so that an interview with him becomes important to watch.
2) Be More Like Jake Tapper (When He Hosted This Week)
During the short period between George Stephanopoulos' first-run as host of This Week and Christiane Amanpour's ill-fated turn in the chair, Jake Tapper presided over a more fun Sunday morning new show. Most notably, Tapper's roundtable featured unique and exciting guests (featuring Bill Maher's only appearance on a Sunday morning roundtable and introducing Ann Coulter to the fray as well) while also debuting new ideas to help reach a new young audience, like post-show fact-checking of guest statements.
On the other hand, Gregory's roundtable routinely features the likes of Chuck Todd and Andrea Mitchell, who can be seen on MSNBC every other day of the week. And let's not forget that historian Doris Kearns Goodwin is regularly rolled out on MTP to light the conversation on fire for an occasional ratings bump.
Instead of these ratings-killing decisions, Gregory needs to invite truly diverse participants to join the debate, and I mean diverse in the sense of people with opinions from all across the political spectrum that are rarely heard from on television.
3) Be More Like No Other Interviewer
Right now there is nothing that makes a newsmaker interview on MTP distinct from their appearance on any other show. Gregory needs to change that. Besides being more aggressive like Russert and more innovative like Tapper, it's time for Gregory to blaze his own new trail and to do it quick, otherwise…
If none of these steps are taken and instead Gregory is invited to the woodshed in NBC's backyard to keep Ann Curry company, then let me attempt to shoot down rumored replacements and humbly suggest what should be the obvious candidate for the job.
Forget Chuck Todd, Joe Scarborough, or some outside journalist. Here's a bold prediction: NBC's Luke Russert will one day assume the MTP hosting chair, as he has already demonstrated he is worthy of holding on his own merits (controversial position, I know). The only question is when.
And if Gregory ignores this advice, then the answer regarding Luke's (or any other replacement's) ascension should be now.
Have a tip we should know? tips@mediaite.com