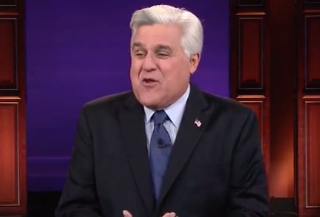 With Jay Leno's tenure as host of The Tonight Show officially coming to an end in less than a month (and this time for real!), speculation begins to run rampant regarding what Jay will do next? Some could argue that today's abundance of channels and various late night talk show options already on the air suggests Leno's availability isn't that big of a deal. They are wrong.
Leno's free agency is the type of game-changing, once-in-a-lifetime opportunity that would pay huge dividends to the network executive that makes the costly investment. Admittedly such a statement seems absurdly hyperbolic given that ratings for network television across the board are trending downwards and that Leno's past experimental move out of the comfy Tonight Show chair to NBC's 10 p.m. hour with The Jay Leno Show produced catastrophic results. However, Leno remains an unparalleled talent (sorry, fans of "edgy" comedy) and the Fox broadcast network (i.e., not the Fox News Channel) is in the unique position to capitalize on Jay's assets and desires.
The executives at NBC have made it clear they want Leno to remain in the NBC family. Such a warm sentiment seems to reflect a sense of loyalty to the man who kept NBC first in late night for so many years, despite the rest of their schedule crumbling in the past. Yet, no doubt, the underlying motive is to keep Leno from appearing anywhere else. NBC fears competing against Leno, and justifiably so.
Leno's appeal to audiences of a more mature persuasion is undeniable and basically unchallenged as every other show targets the youngest viewer possible. Furthermore, and somewhat baffling, Leno remains the only major talk show host not decidedly liberal. Sure Jimmy Fallon, Jimmy Kimmel, Conan O'Brien, Seth Meyers, and Craig Ferguson don't wear their politics on their sleeve like David Letterman, Jon Stewart, and Stephen Colbert, but no one would confuse any of those men as being a conservative on any issue. Meanwhile Leno stands alone in at least appearing sympathetic to conservative causes, regularly interviewing Republicans, and thus courting favor with parts of the country between the more "hip" coasts.
I bring up these points merely to suggest Leno has a committed following, and it would be foolish to think they would not follow Leno wherever he might end up. People say they watch "Leno" or "Letterman" and not "Tonight Show" or "Late Show" because viewers most value their relationship with the host, and if Leno appears on another channel (and one that is easy for viewers to find – sorry cable!), then Leno viewers, and by extension, Leno himself will be satisfied.
Enter Fox. Without any successful late night in its history, who better to pioneer new ground than the late night leader himself? Why should Fox continue to be content turning the lights off every night, giving prime real estate back to local affiliates to program syndicated content and Seinfeld reruns? Does Leno fit the "edgy" Fox brand and target the youthful demographic that one normally associates with the Fox network? Well, no, on both accounts, but such a move would be a building block for the future. Build a Leno show and the audience will come, and do so with one proposed unique caveat.
Of course, this is just a suggestion, but one, I'd argue, would be a dream scenario for all parties.
Fox gives Leno a nightly half hour show at 11 p.m. where he can just focus on topical jokes and headlines (allowing Leno to drop guest interviews, his least favorite part of the show), and so that he does not have to compete directly with The Tonight Show (allowing Leno to maintains his "nice guy" image).
In return, Fox gets the opportunity to launch a new show behind him at 11:30 that will carry Fox late night television into the future for many years to come.
No matter how they schedule it, Leno does not want to be away from television for long, and Fox has been away from programming late night for too long. It's time for them to come together and, undoubtedly, viewers will be the winners.
— —
Have a tip we should know? tips@mediaite.com