Merger-Mania! Stewart Trashes 'Hope And Optimism' On Wall Street, Mocks Pundits' 'Unbridled Enthusiasm'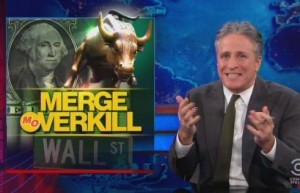 If you didn't think anyone had any reason to be celebrating in this economy, think again! Jon Stewart tonight highlighted how "hope and optimism" are back on Wall Street thanks to "merger-mania!" Companies are merging, all signs are looking up, and correspondent John Hodgman proudly celebrated how this "too big to fail" moment for big business is the corporate version of YOLO (you only live once).
RELATED: Jon Stewart Rips Obama's Economy Speech (But Isn't Happy With The GOP Either)
Stewart opened the segment highlighting how despite the poor economy and the impending sequester, "hope and optimism" are back on Wall Street in what is being described as "merger-mania." Office Depot is merging with OfficeMax, and US Airways is merging with American Airlines. But what about Warren Buffett joining forces with Heinz? Stewart surmised that it was probably a big mistake after telling his secretary he wanted some ketchup.
Stewart mocked "financial journalists' unbridled enthusiasm" for just assuming there will clearly never be a downside, which inevitably followed with one guy being a buzzkill and saying that previous merger boom periods "ended badly." Stewart cried, "He's using the past to predict the future! He's a wizard! Drown him!"
Hodgman then suddenly appeared in the studio to explain why Wall Street is so enthusiastic about all these mergers: greeb. Not greed. Greeb. Hodgman explained that greed is over and the wealthy need a new term to describe the feeling of having everything, but still wanting more. Hodgman assuaged concerns by describing them as "fun corporate weddings," telling Stewart, "why don't you shut up and do the electric slide?"
Hodgman said that mergers end up making companies too big to fail, and TBTF is just the "rich man's YOLO." He stuck with his Gordon Gekko persona throughout the rest of the segment, referencing new nonsense words in the dictionary thanks to his own merger with Merriam-Webster.
Watch the video below, courtesy of Comedy Central:
—–
Follow Josh Feldman on Twitter: @feldmaniac
Have a tip we should know? tips@mediaite.com
Josh Feldman - Senior Editor