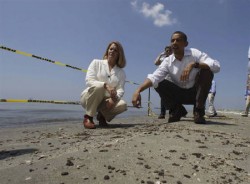 It looks like the message has finally hit home. Forty days after the BP oil spill President Obama is kicking into the sort of action a lot of people in the media were (loudly) complaining last week was missing. Check out today's 'BP schedule' (via Playbook):
Attorney General Eric Holder today 'will survey areas affected by the Gulf oil spill and meet with state Attorneys General and U.S. Attorneys from the region.' Then he'll hold an avail. at 3:30 p.m. ET (2:30 local) at the Hale Boggs Federal Building in the Big Easy.

President Obama will meet at 11:15 a.m. in the Oval Office with the BP Oil Spill Commission Co-Chairs – Bob Graham (former Florida governor and U.S. senator) and William K. Reilly (former EPA administrator). At 12:15 p.m., the President will deliver a statement to press in the Rose Garden.

Thad Allan's debut Stormin'-Norman-style solo briefing, to be held daily wherever he is in the world, is expected for early afternoon at the Port of New Orleans Administration Building.
Too much, too late? Over the weekend Clarence Page, George Will, and Chris Matthews (again) all noted that a more accurate historical comparison for the oil spill might be the Iranian hostage crisis. Said Page: "President Carter's mistakes was he committed himself too early to saying, 'I'm not going to rest. Every day, you're going to see me out here.'" One wonders if by launching this full court media press, particularly this late in the game, Obama is risking the same early on in his first term.
Meanwhile, as alluded to the other week by Robert Gibbs, a "aggressive, highly visible criminal investigation" is apparently underway. For better or worse, this looks to be the story 'driving' the summer.
Have a tip we should know? tips@mediaite.com