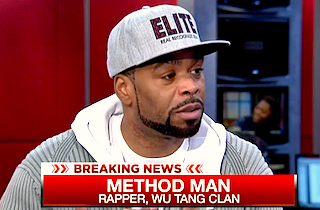 MSNBC's Tamron Hall invited rapper Method Man onto her show to discuss the persistent tensions between cops and the African-American community, which stretch all the way back to the days of N.W.A.'s "Fuck tha Police." Method Man said his treatment at the hands of the NYPD had improved since his days when he got hassled as teen, but that he still has friends who are harassed by the police, including one who suffered a similar fate to the asphyxiation death of Eric Garner.

"I'm looking at my situation of being searched at 13," he recalled. "Yeah, eff the police."
"But it's all about fear. We're afraid of what the police can do and the power that we think they wield. …With the cops, it's, 'We don't live in these neighborhoods, we only know what we see on television, or what other officers have told us, and we're just as frightened as these people — but we have guns.' And when you deal with human nature — human nature, just an officer dealing with things professional, he's still a human — when that fear kicks in, you never know what could happen."
Method Man also addressed the shooting of two police officers in Ferguson last night, which he suggested had been partially instigated by the Department of Justice's scathing report on the Ferguson Police Department.
"I hate to say that FBI report kind of played into this," Method Man said. "But you reap what you sow, in a sense. If that FBI report would have never come out, and the scandal, how they're basically paying the city by giving people tickets — that is incredibly insane, but we knew this already. This is common knowledge in the hood."
Watch the clip below, via MSNBC:
[Image via screengrab]
——
>> Follow Evan McMurry (@evanmcmurry) on Twitter
Have a tip we should know? tips@mediaite.com