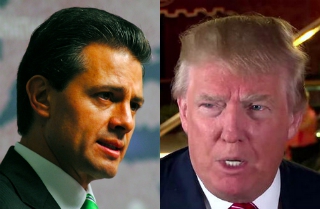 Before he had even officially announced his run for the GOP presidential nomination, Donald Trump was talking up his plan to make Mexico pay to build a massive wall along its border with the United States.
"They will pay for it because they have really ripped this country off," he said in an interview back in May. "They have really taken advantage of us both economically and at the border. They will pay for that fence."
And his position has not changed in the months since. Just this week, speaking to Fox News' Sean Hannity, Trump reiterated the claim, saying, "We're not paying for it. You know how easy that is? They'll probably just give us the money."
"I watch politicians come on: 'Can you imagine, Sean, he's saying Mexico's going to pay? They'll never pay.' And I'm saying, that's like a hundred percent," Trump added. "That's not like 98 percent. Sean, it's a hundred percent they're [going to] pay. And if they don't pay, we'll charge 'em a little tariff. It'll be paid. But we need the wall."
Well, now the Mexican government has spoken and their message is: Not so fast.
"Of course it's false," Eduardo Sanchez, a spokesperson for Mexican President Enrique Pena Nieto told Bloomberg in an interview last night. "It reflects an enormous ignorance for what Mexico represents, and also the irresponsibility of the candidate who's saying it."
"Mexicans in the U.S. work with passion, they do their jobs well," Sanchez added. "His comments reflect an enormous lack of knowledge of the reality in the U.S."
Of course, this is not the first time the Mexican government has had to correct Trump. Following the candidate's controversial comments about Mexican "rapists", Mexico's Interior Minister Miguel Angel Osorio Chong called the claims "prejudiced and absurd" and said Trump "surely doesn't know the contributions made by migrants from practically every nation in the world, who have supported the development of the United States."
[Photo via Wikimedia Commons/screengrab]
— —
>> Follow Matt Wilstein (@TheMattWilstein) on Twitter
Have a tip we should know? tips@mediaite.com