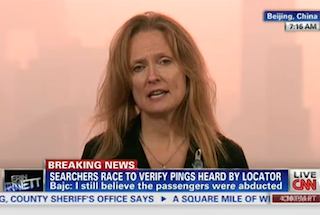 More than a month after Malaysia Airlines Flight 370 disappeared on its way from Kuala Lumpur to Beijing, the search for the plane continued and family members of the passengers on board are still searching for answers. Tuesday evening, CNN's Erin Burnett spoke to Sarah Bajc, partner of Philip Wood, one of the three Americans on board the plane. Bajc explained why she refuses to believe the general consensus that the plane crashed and is currently somewhere at the bottom of the Indian Ocean.
"I think the general perception amongst the families is that the timing of these pings is awfully coincidental with the batteries wearing out," Bajc said of the recently-detected signal that has searchers narrowing in on a more specific area of the ocean. "So all of us pretty well agree that until there is the bulk of the plane and the bulk of the bodies discovered and a black box intact, we won't believe that it's final evidence."
Bajc maintained what she had previously stated about her belief that the plane is still "intact," saying, "I still believe it because there isn't any evidence to the contrary. And actually, most of the circumstantial evidence I believe points towards an abduction of this plane." She added, "I don't know why and I don't know by who, but I'm convinced that that plane was taken by somebody."
She went on to discount the "investigative skills" of the authorities who say they have cleared the other passengers and crew members on board of having any indication or motive to hijack the plane. Asked by Burnett how she will handle the possibility that the plane is never found, Bajc said, "That's the scariest option of all, because I think if you're sure someone has died, you can grieve properly and you can move on. But I'm not willing to move on."
At the end of the segment, Bajc said she hoped her media appearances might not only reach Wood if he's still alive out there somewhere but also "urge some bystander who has been keeping their mouth quiet to come forward with something."
For more of Mediaite's coverage of the missing plane, check here.
Watch video below, via CNN:
[photo via screengrab]
— —
>> Follow Matt Wilstein (@TheMattWilstein) on Twitter
Have a tip we should know? tips@mediaite.com