MI Gov. Rick Snyder: Right To Work Laws Give Unions Opportunity To 'Better Present Their Value Case'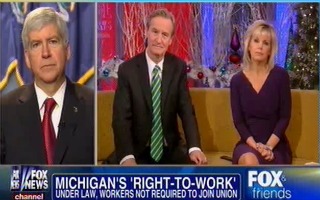 Michigan's Republican Gov. Rick Snyder, who is supporting right to work laws which will pass his state's legislature later today, appeared on Fox & Friends to discuss the new measures and how they will impact labor rights and the state budget in Michigan. Snyder said that he viewed the new laws not as anti-union, but pro-worker. He also said that the new laws will give public-sector unions the opportunity to better make their case to workers as to the benefits they offer because membership will now be voluntary.

Steve Doocy asked about the pro-union protesters which are coming out in opposition to right to work laws which are expected to be approved by Gov. Snyder on Tuesday. Snyder said the reforms are "all about being pro-worker."
"This is about giving the workers the freedom to choose whether their resources go to a union or not," Snyder said. "I actually don't view this as anti-union because it really gives unions the opportunity to better present their value case, and if people see value they should join. If they don't, why should their resources go there?"
Snyder said that he hoped to emulate the experience of Indiana which has seen an expansion of new jobs since the institution of right to work laws.
"Didn't the voters vote for this," Gretchen Carlson asked. Snyder replied that a union-supported ballot initiative which would have enshrined collective bargaining rights into the state's constitution which was defeated and prompted this battle over right to work laws.
Carlson asked Snyder about school districts that will be closed due to teachers who have opted to call in sick and protest in the state's capital. "What does that say to kids," Carlson asked.
"Too often the education system is all about the adults," Snyder replied. "Let's get focused on the kids."
Watch the segment below via Fox News Channel:
> >Follow Noah Rothman (@Noah_C_Rothman) on Twitter
Have a tip we should know? tips@mediaite.com