Michael Bloomberg: 'I Think [Chris Christie] Would Be A Credible, Formidable Candidate'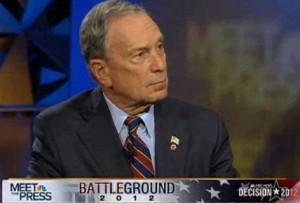 On Meet the Press today, New York Mayor Michael Bloomberg weighed in on the Republican race for the presidency and whether New Jersey Governor Chris Christie would make a good candidate to go up against Barack Obama.
David Gregory asked the mayor if he thought Christie should enter the race for president. Bloomberg indicated his interest in the prospect of Christie running.
"He's been a good governor of New Jersey, he's shaken things up in a state that's had problems that have gone on and on and on. Some things he does I agree with, some things he does I don't agree with, but if he wants to run, he certainly should just get in there and go do it."
Gregory then asked Bloomberg about Rick Perry's chances after coming in a distant second in the Florida straw poll. Bloomberg said he wasn't sure, but offered up a piece of media criticism, suggesting the media will always set their sights on taking down whoever the new frontrunner is. He also admitted he was uncomfortable with the positions some of the candidates have taken on science.
Finally, Bloomberg addressed the idea of a viable third party candidate entering the race, and immediately ruled out the possibility he would be the one to do it. And while he was encouraged by the idea of a third party candidate running, he admitted that most Americans will end up supporting one of the two major parties come November 2012. He also suggested President Obama could still be reelected despite high unemployment numbers because incumbents have an advantage in presidential races.
Watch the video below, courtesy of NBC News:
Have a tip we should know? tips@mediaite.com
Josh Feldman - Senior Editor