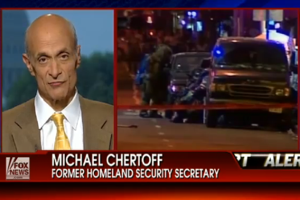 Having a news cycle dominated by an ecological disaster in Louisiana and an airline terror plot is resulting in some major cable news deja vu. Joining former FEMA director Michael Brown in returning to the airwaves is former Bush administration Homeland Security Secretary Michael Chertoff, who explained to Fox News' Jane Skinner earlier today that Times Square bomb suspect Faisal Shahzad managed get on a plane to Dubai with cash because it's the airlines' responsibility to screen the no-fly list, and they were hesitant to turn the authority over to the TSA.
Chertoff explained that the reason Shahzad slipped through the cracks was because airlines are only obligated to update their no-fly lists every 24 hours (that has since been reduced to two hours), and that airlines are simply not as efficient as law enforcement at catching criminals. No surprise there, but what was somewhat surprising is Chertoff's claim that some airlines– he didn't name them– had been opposed to a government takeover of the screening process because it required spending too much money:
"For several years now, we've been working to actually change the system entirely so that the process of checking is not done by the airlines, who, frankly, from time to time, make mistakes or they don't focus on the issue. And to move that into TSA– that's a program called 'Secure a Flight.' It has taken years to get this done because, to be honest, the airlines have fought very hard against this transition because it's going to cost them money to rewire their IT system, so that they're able to pass the manifest passenger information over to TSA."
He notes that the system overhaul has been approved and is in progress, but that doesn't quite lessen the blow of his assertion that it was the airlines that didn't want the government involved in the law enforcement part of the airline business. The airlines' resistance was never covered as one of the major challenges to the no-fly list, those being mostly civil rights questions and the repeated occurrence of false positives. The decision to put the no-fly list in the hands of airlines could probably be due to the speed with which anti-terror measures had to be implemented in the early post-9/11 era, but considering all of the financial trouble airlines have gone through in the past decade, exacerbated by the 9/11 attacks and barely remedied by the subsequent government bailout, Chertoff implies that the decision to have them foot the bill may have set national security back by several years.
Video below:

Have a tip we should know? tips@mediaite.com