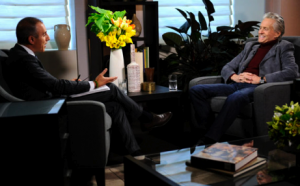 In his first interview since undergoing cancer treatment, Michael Douglas tells NBC's Matt Lauer his tumor is gone and he feels that he's "got it beat."
In the exclusive interview set to air Tuesday morning on NBC's TODAY and Sunday night on NBC's DATELINE, Douglas admits cancer stopped him in his tracks and has forced him to re-evaluate his life:

MICHAEL DOUGLAS:
It's put a timeline on my life. I'm 66 now. You know, I'm fortunate I've got a mother who's 88. She'll kill me. She may be 87. My father's 94. So, you know, I feel good about those genes. But it's definitely a third act. And so you're a little more conscious of your time in how you choose to spend it.

MATT LAUER:
And over the years, there's been a label attached to your name. You're most often introduced as Oscar Winner Michael Douglas. And now there's a good chance there'll be another label attached to your name. You may be known as Oscar Winner and Cancer Survivor Michael Douglas.

MICHAEL DOUGLAS:
From your lips to God's ears.
Douglas concedes he looked frail and gaunt in tabloid newspaper pictures taken in New York during the star's cancer treatment, saying he lost 32 pounds, but has since put 12 back on, and he's already focusing on his next film role, as Liberace:
I can eat anything I want. They want to keep the cardio down because they want me to put some more weight on. I lost a lot of muscle mass, so I'm going to work on that. I'm going to get my fingers ready for Liberace, you know…
Have a tip we should know? tips@mediaite.com