Michael Dunn Attorney Laughs at Idea of Firing Warning Shot for Jordan Davis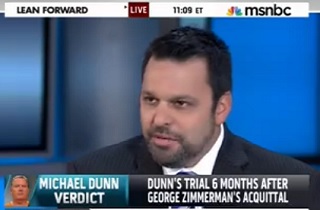 Over the weekend, Michael Dunn was convicted of three counts of attempted murder and one count of shooting or throwing a deadly missile in the incident that resulted in the death of 17 year-old Jordan Davis, but the jury hung on the question of Davis' murder. Dunn defense attorney Cory Strolla was interviewed by MSNBC's Craig Melvin Monday morning, and when asked why his client didn't fire a warning shot instead of shooting to kill, Strolla laughed audibly.
The two were comparing Dunn's incident, in which a disagreement over loud rap music escalated into a one-sided gun battle that left Jordan Davis dead, and the killing of Trayvon Martin by George Zimerman. "In Zimmerman, they were trying to show that George Zimmerman was the aggressor, he got out of the car, approached Trayvon Martin, he created that conflict, that physical confrontation," Strolla told Melvin, while explaining that in Dunn's case, "he didn't start a confrontation. Everyone keeps talking about this as a loud argument over music. Every guy in the car admitted Mr. Dunn didn't raise his voice, didn't curse."
"He didn't have to raise his voice," Melvin responded. "He took out a gun and fired ten shots, ten rounds."
"That was after Jordan Davis got out of the car with a weapon," Strolla replied, although no evidence of such a weapon exists beyond Dunn's own account.
"Let me ask you this before you go, why ten shots?" Melvin asked. "If he was concerned, if the goal was to try and keep this dangerous teenager at bay and to save his life, why not a warning shot, one in the air?"
As Strolla let out an audible laugh, Melvin continued, "Two shots, maybe even three shots?"
"And I don't mean to laugh," Strolla said, "but by saying why not a warning shot, there is a black African-American female in jail right now in Duval County, where my client was prosecuted, she is sitting there, guess what? She got her conviction overturned on the jury instructions, and on stand your ground."
Strolla is referring to Marissa Alexander, whose conviction was overturned in November due to an erroneous jury instruction on self-defense. However, the judge in that case specifically noted that "We reject her contention that the trial court erred in declining to grant her immunity from prosecution under Florida's Stand Your Ground law."
"Those people who are arguing against stand your ground are now portraying this as a win for an African-American female in Jacksonville, who fired a warning shot," strolla continued. "So if my guy fired a warning shot, the state attorneys would still prosecute him for that very warning shot."
Whether he meant to laugh or not, Strolla's point is somewhat unclear, since Ms. Alexander's case appears to indicate that had Michael Dunn been prosecuted for firing a warning shot, instead of shooting to kill, the law might be on his client's side, and Jordan Davis would still be alive.
Here's the clip, from MSNBC Live:
Have a tip we should know? tips@mediaite.com