Michael Eric Dyson Compares Penn State Cover-Up To Race Disparity In Treatment Of Drug Criminals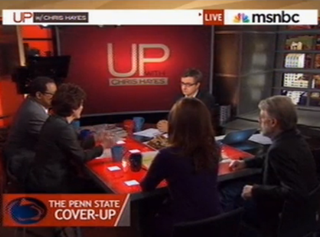 On Up this morning, Chris Hayes and his panel, naturally, addressed the biggest story of the week– the Penn State child rape scandal– and in so doing touched on a point that had been missing in many of the early discussions of Jerry Sandusky's alleged atrocities: the sickness, both mental on his part and institutional on Penn State's, that would continue to not be addressed by simple punitive retaliation.
RELATED: Writer Reveals How Penn State Story Reawakened His Own Frightening Experience from Age 12
In opening the discussion, Hayes noted that it appeared necessary to put in legal measures for people to report such crimes, as even when the eyewitness to the crime reported it, he did nothing to make sure it was enforced, nor did anyone above him. Panelist Elizabeth Holtzman, who has served as Brooklyn District Attorney, noted that this was nothing new, and, in fact, Sandusky had admitted to at least one accusation in the Grand Jury indictment by saying "I did something wrong and I feel like I want to die." "Why didn't the school immediately do something?" she asked.
Panelist Hendrick Hertzberg offered an answer of sorts: "this is really a sickness that people who do the kind of things Sandusky did [have]," he noted, and while adding the caveat that calling it a sickness may "seem like you're trivializing what happened to the victims… simply expressing our condemnation of the horribleness of these acts only gets us so far."
RELATED: President Obama Says Penn State Rape Controversy An Occasion For 'Soul-Searching'
Professor Michael Eric Dyson then jumped in to elaborate on Hertzberg's point, which he called "very delicate and very necessary"– the sickness pervades, he concluded, the institutions, too, where accountability for such acts appears entirely missing in some respects. Dyson then makes a tangential point even he admits is a "risky parallel" between the situation and the race discrepancies between those incarcerated for use of methamphetamines (who tend to be white) as opposed to other drugs: "We see the same thing going on– it's a risky parallel– between those who abuse meth who are medicalized because they happen to be white kids who live in suburbia and the like, versus those who deal with drugs." He didn't elaborate much, but it seems the point was to highlight the difference between punishment and rehabilitation in the drug world, and how a situation where someone has an illness that compels them to rape is one that could be treated either way, one possibly more effective than the other.
But he returns to the subject at hand noting that the medical treatment of drug addicts who had broken laws was one example of treating criminal behavior as a disease– which is not to say "that predators shouldn't get the same punitive measures, [but] we should also figure out what is at the root of it." He later adds that the sickness includes "the cover-up, the complicity, the silence, the refusal," elements which Hayes noted before were particularly damaging in cases such as this where "repeat offense is the rule."
While the idea of Sandusky being "sick" along with Penn State in its idolatry of people like Joe Paterno may sound like it is meant to garner some sort of sympathy for Sandusky, the caveats in the discussion– that condemning his monstrous behavior don't entirely solve the problem– go a long way in appropriately introducing an element to this case that : the desire to definitively fix the problems that allowed this to go on for so long by targeting the problem rather than sweeping it under a rug.
The discussion via MSNBC below:
Have a tip we should know? tips@mediaite.com