Michael Eric Dyson Embarrasses NBC, Maddow Linking Gay Marriage Opposition To 'Defense Of White Supremacy'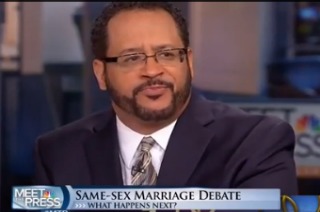 On Sunday, Georgetown University Professor and MSNBC contributor Michael Eric Dyson equated those opposed to gay marriage with a past generation who issued dubious defenses of racial superiority and segregation. Appearing on NBC's Meet the Press, Dyson found the arguments similar, equally meritless, and impugned the motives of those who do not embrace gay marriage as essentially masking bigotry behind a smokescreen of faux science. With all the subtlety of a JDAM missile, Dyson obliterated the rational arguments for the increased acceptance of gay marriage advanced by MSNBC host Rachel Maddow and reduced the stature of NBC News' long-running Sunday morning institution, Meet the Press.

In a Sunday segment on the Supreme Court's gay marriage rulings, Faith & Freedom Coalition founder Ralph Reed asked if President Barack Obama was a "bigot" 14 months ago when he opposed gay marriage but supported civil unions.
"Nobody's calling anybody a bigot," Maddow interjected. "You're the only one that's saying 'bigot.'"
"To suggest that you are motivated by a hatred for somebody else because you believe that the foundation acculturating and socializing institution of western civilization is something to be protected and defended," Reed countered, "is intolerance itself."
"The same argument was made in defense of white supremacy against African-American people," Dyson said, interrupting Reed. "The very same argument: it will destroy civilization, it will undermine the American family, it will challenge our civic institutions, it will unravel our civil polities."
So much for "nobody's calling anybody a bigot." Certainly, Maddow must have been thrilled her efforts to argue her point dispassionately and with reason were undone within seconds by Dyson's appeal to ad hominem attacks. Moral high ground lost.
"So the Pope is George Wallace?" Reed asked incredulously.
"Not George Wallace, I'm saying George Washington," Dyson countered … with unparalleled eloquence.
Dyson made one salient point – he said that notions of race and race relations have evolved dramatically over the last 50 years (though he is essentially arguing with his own assertions from another Meet the Press segment when he declared that race relations have not changed enough to merit updating the Voting Rights Act's preclearance formula which utilizes turnout data compiled in 1972). He noted that it is likely Americans' feelings towards gays and lesbians will evolve along a similar trajectory.
However, Dyson seems to be unable to grasp that statements like those – in which he equates those people who remain uncomfortable with the societal ramifications of gay marriage with institutional bigots – he is hardening positions, reducing opportunities for collaboration, and shutting off the debate.
While no one could impugn Dyson's ability to speak quickly, it is clear he does not devote enough time to think about the ramifications of what he is saying. Dyson is creating an atmosphere with his comments that make the nation's political evolution on gay marriage more more difficult. His demeaning and combative point of view makes social reconciliation between proponents and opponents of gay marriage less likely.
But who should expect anything less from a person who glibly equated Associate Supreme Court Justice Clarence Thomas with a Nazi collaborator guilty of the mass murder of European Jews. This is what passes for enlightened political dialogue on MSNBC and the distinction between that network and flagship NBC News institutions like Meet the Press is growing thinner by the week.
Watch that clip below via NBC:
h/t National Review
> >Follow Noah Rothman (@NoahCRothman) on Twitter
Have a tip we should know? [email protected]