Michael Eric Dyson, Maddow Battle Jim DeMint Over Voting Rights: 'Ghosts' Of Racism Alive Today In The South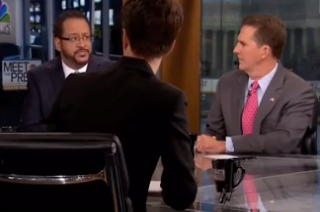 On Sunday morning's Meet the Press, Georgetown University Professor and MSNBC contributor Michael Eric Dyson and former Sen. Jim DeMint (R-SC) engaged in a scuffle over the Supreme Court's decision invalidating parts of the Voting Right Act last week. Dyson insisted that the VRA is necessary today because race-based efforts to disenfranchise voters are happening regularly. DeMint countered that notion, saying that the Court did not throw out the VRA but only insisted that the coverage formula be updated.

Dyson said that Eric Holder's Department of Justice halted the implementation of a recent Texas redistricting plan and filed suit against South Carolina over their voter ID proposal recently, suggesting that race-based discrimination at the state level in areas covered by Section 4 of the Voting Rights Act is a real problem today.
Dyson added that, in 2006, a Republican Congress and president reauthorized the VRA in its entity.
"The courts didn't throw out the Voting Rights Act," DeMint countered, "just one section that used 50-year-old voting participation records."
RELATED: President Obama 'Deeply Disappointed' In Supreme Court Voting Rights Act Decision
He added that the Court's majority opinion cited voting participation rates today that are higher in some areas of the South than they are for whites. "It was a good judgment and it's not going to hinder voting right in a way," DeMint declared
MSNBC host Rachel Maddow challenged DeMint, saying that what Congress reauthorized in 2006 included new voter participation data. DeMint replied that he had little choice but to support the rest of Congress's desire to reauthorize the act or demand that the whole act be thrown out.
"I can't even get a credit card without three credit bureaus telling me I'm good enough," Dyson said. He noted that only one branch of government, by way of analogy, has said that the VRA's formula is no longer relevant.
"Is there a bipartisan basis to do something that ensures that voters are enfranchised around the country?" asked host David Gregory.
"Yes," replied NBC News Justice Correspondent Pete Williams. He noted, however, that the political gamesmanship that is played with the VRA today has little to do with enfranchisement, but it is a means of ensuring that members of Congress maintain their positions.
> >Follow Noah Rothman (@NoahCRothman) on Twitter
Have a tip we should know? tips@mediaite.com