Michael Eric Dyson: O'Reilly 'Surprised That Black People Don't Throw Bananas' 'Or Swing From Trees'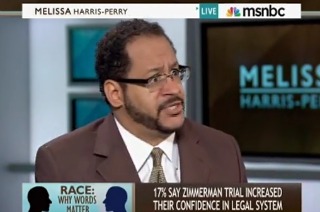 Georgetown University Professor Michael Eric Dyson issued a challenge to Fox News Channel host Bill O'Reilly during a Sunday morning appearance with MSNBC's Melissa Harris-Perry. He said that O'Reilly's talk about the problems facing the black community lacks a base of empirical knowledge, and he would like to have a real "conversation" about race with the Fox host. Dyson said that O'Reilly was recently "surprised that black people don't throw bananas at each other or swing from trees" in Harlem, and is not well-positioned to frankly discuss racial issues.

"There is one high-profile white man who is willing to talk about race," Harris-Perry opened a segment on race relations. She played a clip of O'Reilly talking about what he thought were the problems facing the black community, including the breakdown of the African-American nuclear family.
"Why is it that when we say we want to have a conversation on race, you want to have a conversation on blackness?" Dyson said in reaction to the clip. "You don't want to have a conversation on white privilege, on conscious bias. You don't want to talk about the collective world we've made black, brown, red, yellow, and white people. You want to lecture black people."
Dyson added that even President Barack Obama has said, as exemplified by a recent speech to students at the predominantly black Morehouse College, "no excuse-making." Turning to the issue of inner-city crime, Dyson said that the media's lack of focus on crime ridden neighborhoods is a contributing factor to that epidemic of violence.
RELATED: O'Reilly To Geraldo: 'I Don't Care' If Black People Feel Like I'm 'Stereotyping' Them
"But this is what we know: White on white crime is a devastation in America like so-called black on black crime. It's not black or white on white crime. It's proximity murder," Dyson said. "The cameras don't show up in Chicago like they show up in Newtown and Aurora. All we're asking for is equal attention paid to crises at a time of enormous distress for our vulnerable children to be assisted."
Dyson said that O'Reilly could not understand the issues facing black people because he is too far removed from the community. He cited O'Reilly's visit to Sylvia's Harlem Restaurant in 2007, when he said he was so similar to other Manhattan restaurants, as an example.
"So, Mr. O'Reilly, I'd love to have that conversation about protecting yourself behind white picket fences and Fox News and having digital courage," Dyson said issuing a challenge. "Come in the streets where you went to Sylvia's and you were surprised that black people don't throw bananas at each other or swing from trees."
Watch the clip below via MSNBC:
h/t MRC
> >Follow Noah Rothman (@NoahCRothman) on Twitter
Have a tip we should know? tips@mediaite.com