Michael Eric Dyson Rips Into Don Lemon, O'Reilly: What About 'Pathology At Heart Of The White Family?'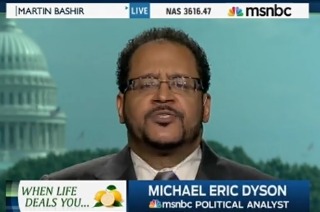 Georgetown University Professor Michael Eric Dyson tore into CNN anchor Don Lemon and Fox News Channel host Bill O'Reilly's on Tuesday during an appearance with MSNBC host Martin Bashir over their recent criticisms of the fracturing of the nuclear family in the black community. Dyson assailed the political commentators for underplaying the "crass materialism" and drug abuse that typify "the pathology at the heart of the white family."

"Don Lemon is a friend of mine, but on then score I think that Mr. Lemon has missed the boat," Dyson began. "The reality is we can't blame the victims."
"We can't blame people who are victimized by a vicious attitude that profiles them," he continued.
"Bill O'Reilly has advanced no profound commitment to or sympathy for African-American people," Dyson added. "He's constantly lecturing us from his bastardized podium where he condescendingly throws out nuggets of wisdom to us without understanding the existential and moral crisis that attend the kind of victimization of black people."
RELATED: Don Lemon Defends 'Controversial' Comments On The View: 'That's Advice My Mother Gave Me In Kindergarten'
The Georgetown professor said he went to see a film which highlighted the primarily white culture around the use and sale of methamphetamines.
"Are we going to say white culture is pathologized because it refuses to take care of its children?" Dyson asked hypothetically. "Its kids are going to hell in a hand basket because they are on meth and they don't care about the fundamental structure of the family?"
"We can indict the white family," he continued. "There's a lot of negativity, there's a lot of dismissiveness, there's a lot of crass materialism that refuses to care for the other."
We can talk about the pathology at the heart of the white family. What we need to do is speak about common goals of making sure our children are protected and focus on African-American vulnerability that, by the way, Mr. O'Reilly refuses to acknowledge is deeply rooted in the vicious and systemic denial of opportunity to African-American people.
Watch the clip below via MSNBC:
> >Follow Noah Rothman (@NoahCRothman) on Twitter
Have a tip we should know? tips@mediaite.com