Michael Hastings Confronts Piers Morgan Panel Over Media 'Mythologizing' Petraeus, Ignoring Poor Record
Michael Hastings Confronts CNN Panel Over Media 'Mythologizing' Petraeus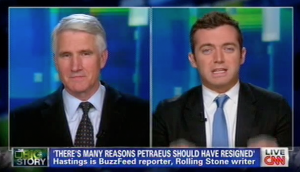 On his show Monday night, Piers Morgan turned to his panel to discuss the recent scandal involving David Petraeus. During the segment, BuzzFeed reporter Michael Hastings — who recently penned a piece about the Petraeus — asserted that the media has been glossing over the problems with Petraeus record in Afghanistan and Iraq, specifically calling out a CNN reporter as well as another panelist.
There are "many other reasons" Petraeus should have resigned, Hastings said. Reasons aside from the affair. Moreover, Hastings argued that "the media has played a role in protecting David Petraeus and promoting David Petraeus and mythologizing David Petraeus."
In making his point, Hastings pointed to another guest on in the same segment, Gen. Mark Kimritt, who defended Petraeus. Kimritt is defending him on TV but not addressing the problems with Petraeus' record, Hastings said. Those problems being: "He manipulated the White House into escalating Afghanistan, he ran a campaign in Iraq that was brutally savage, included arming, the worst of the worst."
Not letting up, Hastings pressed on with the media critique.
"So for me the questions of honor and integrity, I was raising those earlier," he said. "A number of other journalists who were actually covering David Petraeus were raising those concerns. You might not get that from someone like Barbara Starr at CNN, who essentially is a spokesperson for the Pentagon in many ways."
"Barbara is not a spokesperson for him, obviously," Morgan replied.
"Not too obviously," Hastings quipped. "I have followed her coverage pretty closely as she has covered my work before, too."
"Just because she's written naughty things about you doesn't make her a spokesperson," Morgan told Hastings.
"No," Hastings asserted, "what makes her a spokesperson is repeating without question a lot of Pentagon claims."
Toward the end of the segment, Kimritt took issue with Hastings' characterization of Petraeus' military tenure, particularly the assertion that he failed in Iraq and Afghanistan. Such a suggestion "belies the facts," he said.
"I was there three days ago," Kimritt said. "I've been in Baghdad for the last two weeks. It is a much different place than it was when David Petraeus took over there."
"I spent more time in Iraq than you have, man," Hastings replied. "Come on. Let's be honest, David Petraeus fueled an Iraqi civil war that the Shiites won. We installed a radical Islamist government in Iraq."
Hastings is known for his military-related reporting — particularly garnering attention for his Rolling Stone piece, "The Runaway General," that led to Gen. Stanley McChrystal's resignation.
POLITICO's Dylan Byers responded to the segment and noted a few "things to know" about Hastings in the context of his criticisms, the most important of which being: "For Hastings, military perfidy is personal." Byers also added that Hastings "has no problem using public platforms to address personal vendettas."
The third and final thing to know about Hastings is that he considers himself something of a gonzo journalist. His gut instinct is to cause trouble. At a time when the mainstream media seem more cautious than ever, that can be extremely refreshing. If you believe that journalists are supposed to call bull when they see it, then Hastings is your man.
Of course, that's Byers' perspective.
The segment below, via CNN:

Have a tip we should know? tips@mediaite.com