Michael Moore: America 'Lost Something Of Our Soul' In Killing Osama Bin Laden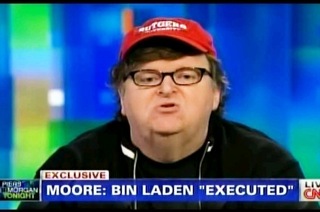 Michael Moore has gotten himself into something of a semantic firestorm regarding the death of Osama bin Laden, calling it an "assassination" and lamenting he didn't get a day in court. Moore defended his position (and made the requisite Nazi analogy) to Piers Morgan on CNN tonight, arguing that America is "better" than tracking bin Laden down.
Initially, Moore did not seem particularly annoyed with the fact that bin Laden had been killed, only with the fact that "the story has changed four times now in four days" and that this was an "execution or an assassination," technically. "I don't think anyone would go 'why did you go there and kill him?'" he told Morgan, though he seemed to change his tune a little later in the discussion.
"We've lost something of our soul here in this country," Moore argued, by not trying bin Laden publicly. "Maybe I'm just an old-school American who believes in our judicial system," Moore said (to much laughter from those who find him distasteful on the right, one must imagine), but "we're better than them, we don't just operate in an uncivilized way the way they did on 9/11." He then went further to note that those who did not want trials for terrorists "hate what we stand for… you hate what the Constitution stands for." Morgan challenged this premise– as well as his analogy to the Nuremburg trials– by noting that it would not be out of the ordinary for the Navy SEALs to assume that bin Laden was armed, shoot first, and ask questions later, which Moore also seemed fine with, if only they would be forthright about it. "I'm not sensing," Morgan countered, "that they didn't admit they killed him."
Ultimately Moore appeared to conflate two overlapping arguments– that the government should be honest in having a mission to kill bin Laden and that the latter should have been tried– in a way that makes the coherence of either difficult to follow. The Twitter firestorm will certainly not calm down after this appearance.
The segment via CNN below:

Have a tip we should know? tips@mediaite.com