Michael Moore Calls Obama's First Term 'Heartbreaking' And 'A Disappointment'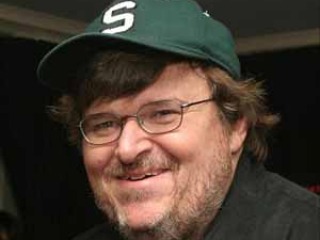 In his recent interview with the BBC, filmmaker and only moderately wealthy person, you guys, Michael Moore was very clear about his thoughts on how Barack Obama has been faring as president and how is not the person Moore thought he was campaigning for.
RELATED: Michael Moore Refuses To Admit He Is Part Of The 1% To Piers Morgan
:
He did not come into office like I had hoped that he would, to do what Franklin Roosevelt did his first few months, where he came in and said, you know, "I'm in charge. This is the way we're doing things. If you don't like it, throw me out of office" and then he set about doing what he had to do.

Barack Obama came in and said, "What can I do to help you?"
He did add, however, that Obama and his administration do seem to be going on the offensive now in the last leg of his (First?) term. Interviewer Richard Bacon then asked Moore whether he feels Obama had initially approached his presidency with a sense of "naïveté."
"Well, it was either that," Moore answered, "or he actually believed in a lot of what they believe in."
"That just may be the sad, sad part about Barack Obama," he later added. "Not that he's too timid or that he's too compromising, but that he actually believes in a lot of what they believe in." The "they" in question being, of course, his cohorts and supporters on Wall Street.
Have a look, courtesy of the BBC:
h/t BBC News
Have a tip we should know? tips@mediaite.com