Michael Reagan Slams GOP: They Talk About Ronald Reagan, But They Haven't Really Embraced Him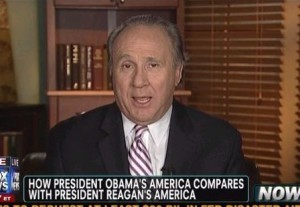 On Fox News' America Live, guest host Martha MacCallum discussed the legacy of Ronald Reagan with the late president's son, Michael Reagan.
The Republican strategist and ex-talk show host distanced the bipartisan years of his father's presidency with the present GOP and slammed them for not fully enacting on his father's vision.
"I gotta tell ya, the Republican party may talk about Ronald Reagan," he said, "but they haven't really embraced Ronald Reagan.
The junior Reagan then began listing off questionable inclusive characteristics of his father regarding Hispanics and women. Succinctly, he boiled it down to where the heart of Reagan's America lies: "The only place where you find people fighting for education, fighting for the grassroots of America really is on Fox and talk radio."
Ultimately, Reagan noted the limits of today's GOP power and hoped for a more compromising approach from House Republicans. The next election, he hoped, could bring about a new set of Republicans to rally around.
We have to also understand we only control the House of Representatives…we don't control the Senate, we don't control the White House….we should get what we can get, move the ball forward and hope for the next election, we represent the people a lot more than we represented them in this last election.
When MacCallum asked her guest if he saw any similarities between his father and any of the current personalities in the Republican Party, Reagan refused to give a name but explained why no current politicians compare: No one speaks for the middle class.
Preceded by footage of a vintage speech by President Reagan wistfully longing about a more patriotic time, his son summed up with some positivity that American can return to the "peak" of his father's era.
"We can change and we can move forward. But you need a voice, you need someone who's going to be able to carry that voice," he said. "And I would say you can't just go out there and kowtow to all the little different groups, you gotta kowtow to America."
Watch below via Fox News:
Have a tip we should know? tips@mediaite.com