Michael Steele Admonishes MSNBC Host Over Her Suggestion Conservatives Need to Rally Around Romney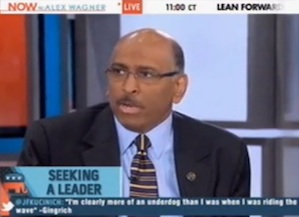 On Thursday's edition of Now, MSNBC host Alex Wagner mixed it up with former RNC chief Michael Steele over his hesitance to support Mitt Romney, playing archival video of Steele saying "I don't care how you cut it, the brother just can't bake the cake. No ones buying it." "Here we are," Wagner observed. "And there's a lot of, there's Mitt-mentum, as it were."
"Where is it?" Steele asked. "Twenty-five percent does not momentum make."
RELATED: Morning Joe Crew: Does GOP Have No Alternative But Mitt Romney?
Wagner persisted, asking if Republicans were starting to step into line in supporting Romney.
WAGNER: But there is some thinking that, at some point, conservatives have to rally around this guy. We know that Politico —

STEELE: Why? Why?

WAGNER: Because–

STEELE: Why can't conservatives just make up their own mind? Why do they have to sit and wait for you or me or Karl Rove or anybody to tell them who they should want?

We saw in this process that the base of the party said we will do this our way in our time. We're, they're in no rush to do this. They want to vet these guys. There's a serious discussion undergoing in the RNC, in the party right now.

It didn't begin in this cycle. This goes back to 2005. It goes back to the second term of the Bush administration, about the difference between foundational principles versus Big Government Republicanism.

And their concern is that Mitt Romney is just a facade for what will be a next generation of Big Government Republicanism, so you have to appreciate that in the first instance.
Watch via MSNBC below:
Have a tip we should know? tips@mediaite.com