Michael Steele And David Corn Get In A Shouting Match Over Santorum's Satan Comments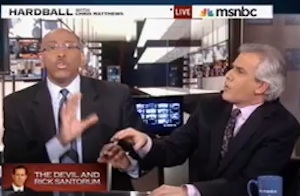 On Wednesday's Hardball Former RNC Chief Michael Steele and Mother Jones's David Corn got into a heated "donnybrook" — in Chris Matthew's words– over Republican hopeful Rick Santorum's remarks that "Satan has his sights on the United States of America."
RELATED: Exclusive Interview: Former RNC Chair Michael Steele On Leaning Forward At MSNBC
Corn took umbrage over the former Pennsylvania senator injecting religion into politics.
"You can disagree with him all day long," Steele opined. "I give anyone props who is willing to go out there in the context of running for office to put that — put their faith alongside of that effort…"
"But if you put your faith out there, you open yourself up to scrutiny," Corn interjected.
"No! David, you can criticize me on my policies, you can't criticize me on my faith because that is something that is core to what i believe!" Steele fumed.
"If you're talking about running for office you can," Corn countered.
"David, let me make my point. Iam not going to criticize you on your faith no matter what you say!"
"Im not running for president!" Corn exclaimed.
Later on in the segment, Steele specified what he had a problem with in Corn's evaluation of Santorum.
"The problem I have with Corn is that Corn is sitting in judgment of his faith values and saying that well therefore I get to scrutinize and say whether it's right or wrong."
"No, no, no!" I'm not saying right or wrong," Corn argued.
"You are!" boomed Steele. "You're sitting in judgment of it!"
i am saying you can evaluate them.
"Let me referee," host Chris Matthews chimed in. "Are you questioning Rick Santorum's right to his religious beliefs?"
"Not at all," Corn replied.
"What are you questioning?" Matthews pressed.
"The impact on his policy view of the world and his…" Corn began.
"Where? where?" Steele repeatedly asked.
"If he says Protestant Churches are controlled by Satan that seems to me to indicate he has a certain view of protestants…" Corn responded.
"What policy, david, are you specifically addressing that to?" Steele questioned.
"How can you — how can you be president of the entire nation if you believe part of them are part of Satan…?"
Corn went on to express that Santorum can say whatever he believes but he then can be judged for saying it.
"Let me ask you this," fired back Steele. "How do you then resolve Barack Obama sitting in Reverend Wright's church for 20 years and hearing Black Liberation Theology and how he has applied that to his policies? How does he justify that?"
"Has Barack Obama espoused these views?" Corn asked.
"You see it in the policies!" Steele argued.
Watch the heated segment below via MSNBC:

Have a tip we should know? tips@mediaite.com