Michael Steele Agrees With Bill Maher: "The Knives Are Out For Sarah Palin"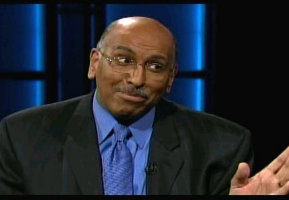 It was clear that recently-deposed former RNC Chairman Michael Steele's appearance on Bill Maher's Real Time would yield a colorful conversation, and looking back, it probably should have been obvious who would be a main focus of that discussion: Sarah Palin. Maher brought her up quickly, reminding Steele of an appearance on Maher's show over two years ago when Steele predicted Palin-bashers would one day eat their words. Maher did not eat his words on this night.
"She does get a little harder to defend, does she not?" Maher asked Steele, following up with, "Between her and Michele Bachmann, I don't know who knows history less." Then, in a notable display of violent imagery (a week after staunchly advocating for gun control, if not for civility in political discourse), Maher said that "the knives are out for her," as Republicans who once defended her can't anymore," because "she's too stupid even for them."
Steele tried to respond to that (and concurred with the "knives are out" sentiment), saying he could identify with being in a situation where saying one wrong thing (or being taken out of context) gets blown out of proportion, but Maher shot back that Palin "wasn't asked a trick question, like 'What do you read?'" (They both had a good laugh at that one, for the record.) And both did seem to enjoy themselves – good news for Steele, since he'll likely be making a lot of appearances like this one in the near future. Video of their exchange, via HBO, below.
Have a tip we should know? [email protected]