Michael Steele On Fiscal Cliff: 'Woe Is The President, Because He's Just Been A Bystander'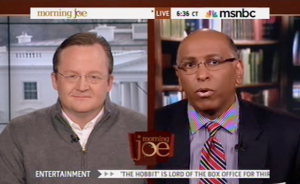 Morning Joe got heated on Monday as the roundtable sparred over the fiscal cliff blame game. In particular, Obama adviser Robert Gibbs didn't take well to former RNC chair Michael Steele's assertion that President Obama has been a "bystander" throughout the negotiation process.
Steele argued at the negotiations probably should have started in the Senate instead of the House, given the "fractured" nature of the House. Pointing to Chuck Todd's update on the situation earlier, Steele added that "woe is the president because he's just been a bystander, as we all know, in all of this."
Ultimately, the continued, the issue is more about spending and less about revenue. "You have to focus on that side of the equation as well and deal with those realities that we spend more than we have."
"We're back on fantasy island," Gibbs retorted. Nothing comments from earlier in the show, he added, "You say we don't have a revenue problem. You're in favor of Simpson-Bowles." Which is $2.6 trillion in additional revenue.
"What Chairman Steele just said encapsulates why nobody in the Republican Party is serious about governing this country," Gibbs said. "Nobody in the Republican Party is serious about wanting to make a deal. This is all a political game."
"It's fantasy land," he asserted. "Somebody needs to get in the Republican Party that can actually make a deal, negotiate with Democrats, the president and the vice president and get something done."
Watch below, via MSNBC:

Have a tip we should know? tips@mediaite.com